Live from the Trump Tower, it's "Saturday Night Live"! Once again, "SNL" kicked off this week's episode with a political sketch. And with the firestorm of political activity that's taken place in just the past few days, there was plenty of material to use.
The show began with Darrell Hammond's Donald Trump sitting in his spacious Trump Tower office, talking on the phone with a reporter, pretending to be a publicist named Joey Pepperoni. And similarly to how the media viewed the real Donald Trump's claims that he did not impersonate an elusive publicist named John Miller, this reporter wasn't buying it.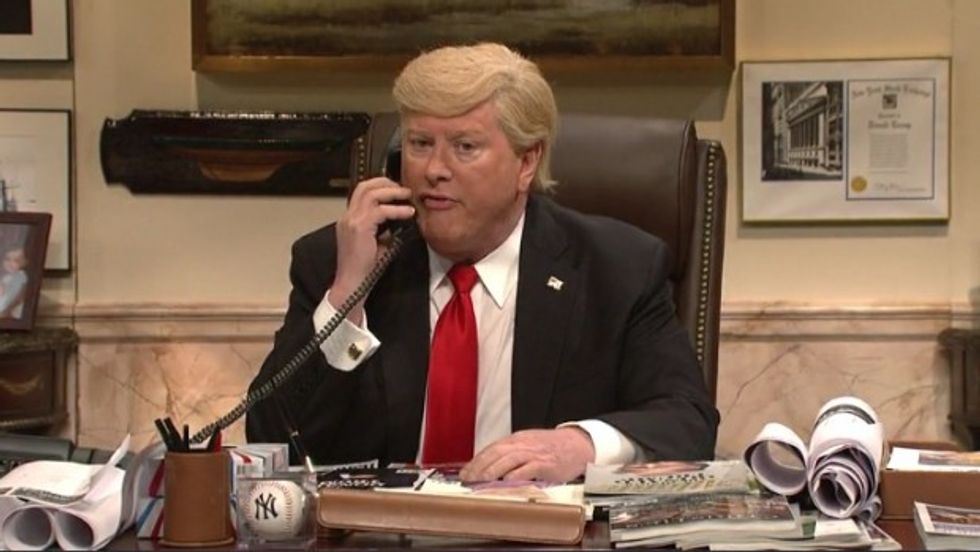 Image source: "Saturday Night Live"
"Mr. Trump is the real life inspiration for Iron Man," Hammond's Trump said. "No, I am not Donald Trump in disguise — this is just what classy people sound like, OK?"
Aside from the John Miller speculation, the second biggest story surrounding the presumptive Republican nominee this past week has been the question of whom he will choose as a running mate, and who will accept.
Enter Chris Christie (Bobby Moynihan, who is gunning for the job. Christie enters Trumps office with the stated intention to help the candidate select his vice president but can hardly hide his burning desire to snag the job for himself.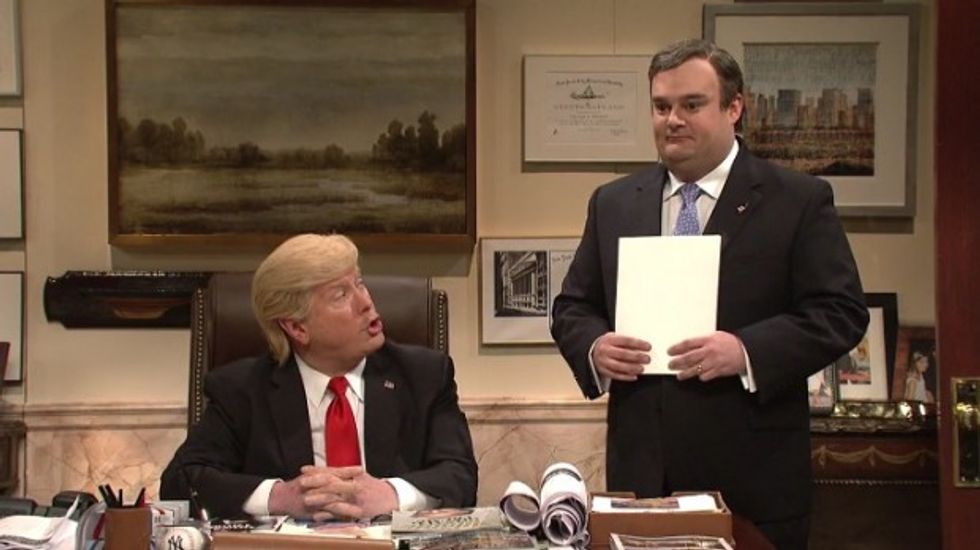 Image source: "Saturday Night Live"
The New Jersey governor presents Trump with a stack of head shots of "potential" running mates. All of Christie's suggested VPs, however, pose no real threat to himself, and many have already said "no" to Trump.
The two burst out in laughter at the thought of Jeb Bush joining the Trump campaign, and Trump ponders the mystery of why women look up to Carly Fiorina when she is a "B-cup, tops."
When Christie proposed a "guy from a swing state, Florida, who's half-Hispanic and has a proven track record of sticking up for himself," Trump seems to have forgotten about "Little" Marco Rubio for a moment and guesses, "George Zimmerman?"
Christie then proposes rock and roll icon, Bruce Springsteen, who sadly, doesn't make the cut. Trump then realizes that many of the major Republican figures in the country have already stated their disapproval of the candidate.
"It doesn't make sense," Trump whined. "Why doesn't anyone want to be my VP?"
"If I may be so bold. Sir, anyone who didn't want to be your VP would be a damn fool," Christie said, still vying for the role. "You are such a special candidate. And maybe, just maybe the person you have been looking for the whole time is standing in this room right now."
"You are so right," Trump said, passing Christie up to one man he has yet to rule out. "Ben Carson, want to be vice president?"
Watch: