A Virginia congressional candidate published a lengthy Facebook post Monday in an attempt to prove he received a prank phone call regarding a job offer — but in doing so he may have divulged a little too much information about himself.
Mike Webb, who is reportedly running for Congress as an independent in Virginia after a failed Republican primary, posted a series of screenshots to his campaign's Facebook page as he argued that he received a prank call about a job opportunity. But along with photos of his phone bill, he included a screenshot of his browser with two tabs that appear to be porn sites.
One tab reads "Ivone Sexy Amateur" and the other tab shows only "Layla Rivera Tight" before the rest is cut off. A Google search shows that both women are in the porn industry. Rivera, for example, has apparently appeared in more than 200 adult films and has received several awards.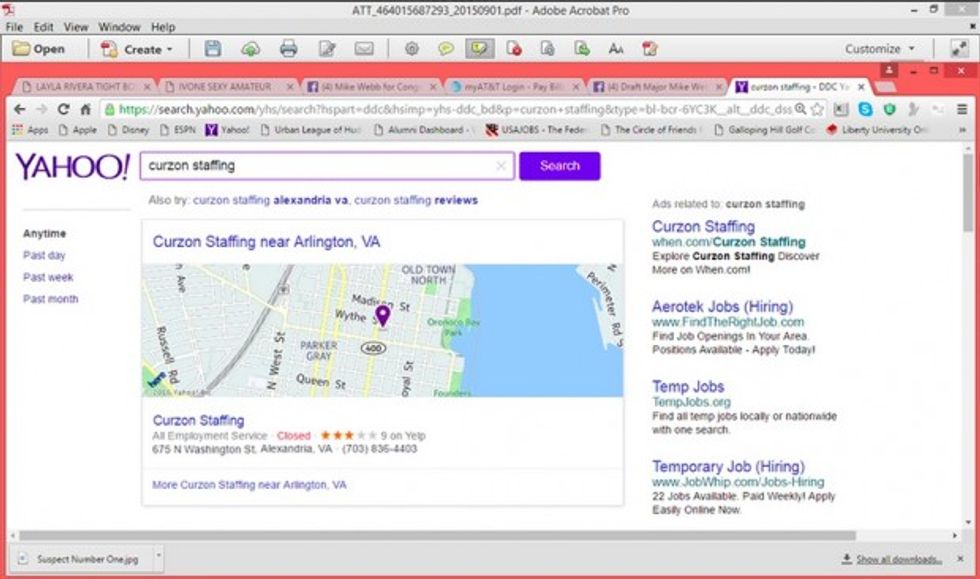 Image via Facebook/Mike Webb for Congress
Despite multiple comments from Facebook users, the post remained on the Webb campaign's Facebook page for several hours Monday. As of 5 p.m., it was still public.
In the post, Webb details his experience with the prank phone call he received while searching for a job. He claimed that after he received an invitation to interview at Curzon Staffing Agency in Alexandria, he called the receptionist at a later time to confirm the interview.
Webb then says that after he arrived on time for the interview he was told by the receptionist that the person who arranged the interview "was not employed by that firm." In his post, Webb specifically named Matt Wavro, an Arlington County GOP officer, and hinted that he may be involved in the prank. Webb has repeatedly blamed local establishment Republicans for his primary loss, ARLnow.com reported.
The phone numbers highlighted on his AT&T bill do not match the phone number listed for Curzan Staffing.
"Just paranoia, right? This happens to everybody all the time," Webb wrote. "I have to admit, personally, none of this stuff ever happened to me until I decided to think about running for office in this town."
"I am Mike Webb, and I am running for U.S. Congress. Honest," he concluded the post.
ARLnow.com previously reported that Webb failed to file with the Federal Election Commission on time which he blamed on a "cyber attack."
Webb's campaign could not be reached by TheBlaze by time of publication. The campaign website's domain appeared to have been expired by Monday afternoon.
—
Follow Kaitlyn Schallhorn (@K_Schallhorn) on Twitter