Fox News Channel host Sean Hannity said Monday night that, if he were Donald Trump, he would select former Speaker of the House Newt Gingrich as his running mate.
"You know, Donald Trump said he wants to hire the best. ...You were successful," Hannity told Gingrich on his television program. "Trump like successful people."
"You brought Republicans back to power. You were the last speaker to balance the budget. You are the last speaker to be transformative, in terms of doing big things in Washington, like welfare reform and maybe a few other things you'd care to mention," he added. "That, to me, naturally makes you a top contender for the VP."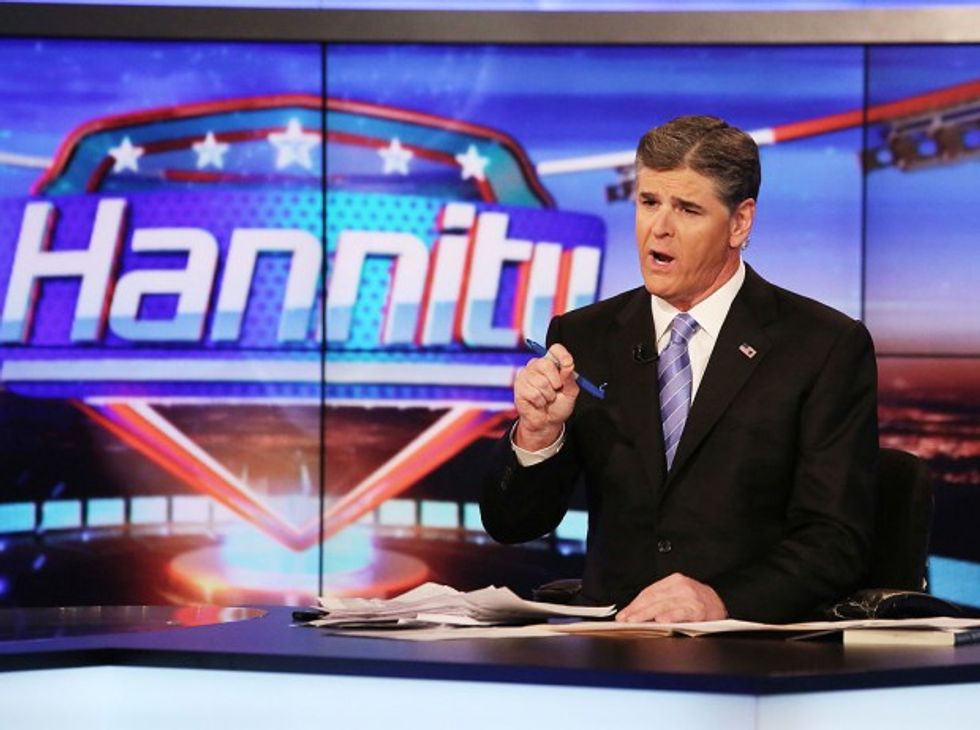 Host Sean Hannity on set of FOX's 'Hannity With Sean Hannity' at FOX Studios on April 21, 2014 in New York City. (Photo by Paul Zimmerman/Getty Images)
Hannity said that he viewed Gingrich as the "best choice" for the job if Trump were looking for the "best person to get the job done."
"You've done it. Can you name anyone else that has more experience and has more success, in terms of a track record in D.C. than you?" he asked.
Gingrich, who has said he would consider accepting the nomination if it were to be offered, said he suspected he was "old enough and been around long enough that I hold that particular title."
The former House speaker, however, told Hannity that that Sen. Tim Scott (R-S.C.) and former Arizona Gov. Jan Brewer would also make good choices.
"I think there are more folks out there than you might think that would be very effective as the vice presidential candidate," he said. "And this is ultimately Trump's decision. He has to decide what he's trying to accomplish in order to get this done."
Hannity remained unconvinced toward the end of the segment.
"Who better that can work with the House and Senate?" he asked. "If anybody would ever listen to me, which no one does, I would pick you. I'd pick you because you have that relationship, you have that intellectual capacity, you have a knowledge of history."
This was not the first time that Hannity has floated Gingrich for a political position. When John Boehner resigned as speaker of the House, the conservative media personality suggested Gingrich could return and lead Republicans in Congress.
—
Follow the author of this story on Twitter and Facebook: