Fox News host Megyn Kelly appeared on Bravo's "Watch What Happens: Live" Monday night and faced Andy Cohen's questions about Donald Trump and her cable news colleagues.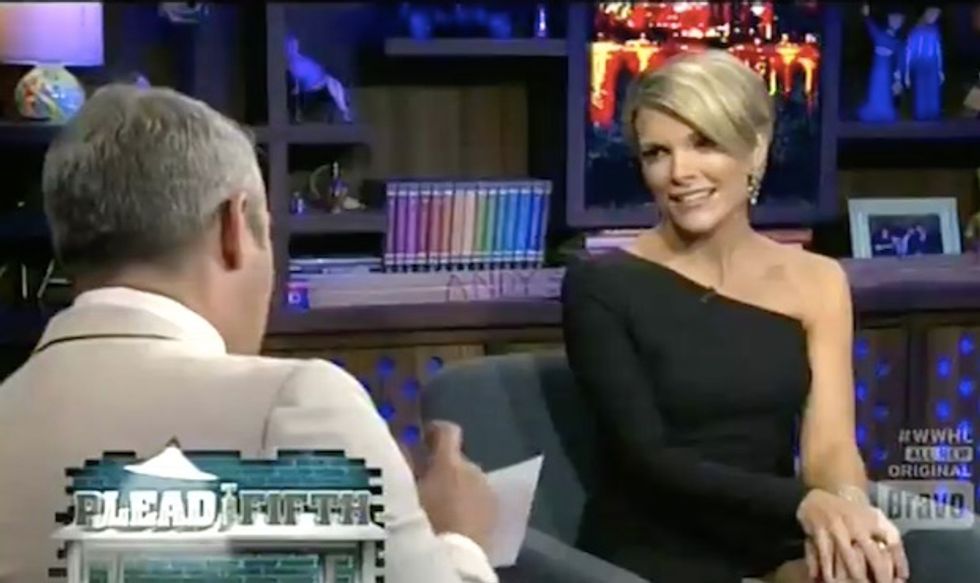 Image source: YouTube
In a segment titled "Plead the Fifth," Cohen asked Kelly three questions, allowing her to avoid answering one of them by "pleading the Fifth."
Kelly opted not to answer the first question asking which Fox hosts she would "Marry, Shag or Kill" (she was offered a choice between Sean Hannity, Bill O'Reilly and Geraldo Rivera.)
The second question offered Kelly a chance to turn the tables on Donald Trump and critique his appearance.
Without blinking, Kelly announced, "I would say the hair is real. I have laid hands on it personally," Kelly told a surprised Cohen.
She continued, "That is not a wig ... and it's not a comb over either."
"I have run my fingers through it," Kelly said, adding, "I shoved my hands up in that hair, and it's real, for reals."
Watch:
--
Follow the author of this story on Twitter and Facebook: