Donald Trump fired back at Hillary Clinton Thursday evening, saying "she is not qualified" to hold the Oval Office, just hours after she said the same thing about him.
Trump said in a statement that "the fact that Hillary thinks the temporary Muslim ban...promotes terrorism" proves "she is not qualified to be president."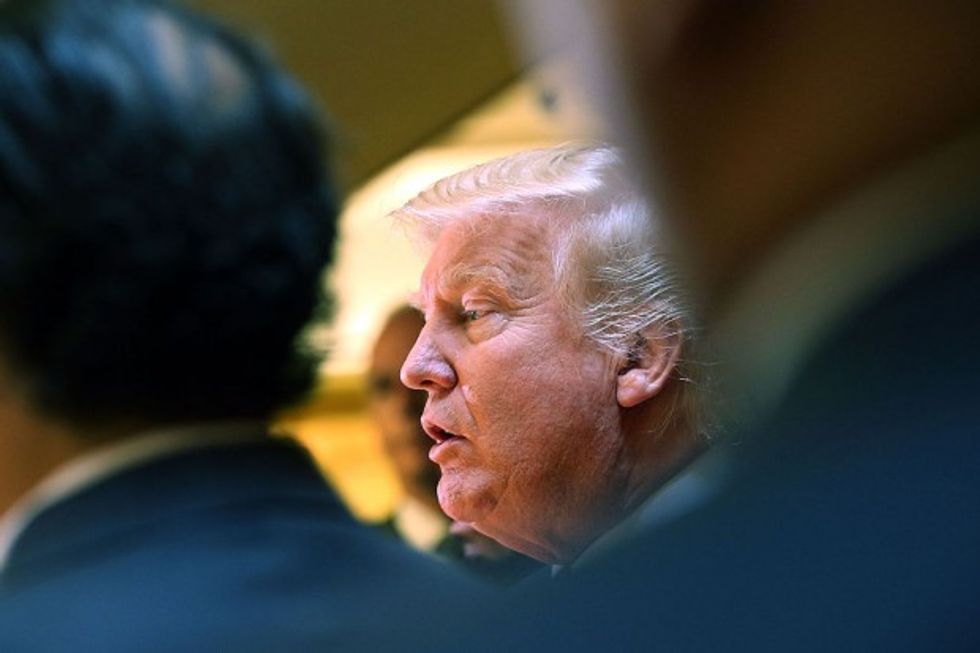 Republican presidential candidate Donald Trump greets members of the 'National Diversity Coalition for Trump,' a day ahead of New York primary on April 18, 2016 in New York City. (Photo by Spencer Platt/Getty Images)
Clinton had taken aim at Trump earlier in the day, saying in a CNN interview that his proposal for a Muslim ban sent a "message of disrespect" to certain U.S. allies in the Middle East. The former secretary of state added that she had "concluded he is not qualified to be president of the United States."
Trump addressed Clinton's claims head on, highlighting her response to recent acts of terrorism to criticize her.
"Look at the carnage all over the world including the World Trade Center, San Bernardino, Paris, the USS Cole, Brussels and an unlimited number of other places," Trump said. "She and our totally ignorant President won't even use the term Radical Islamic Terrorism."
The presumptive Republican nominee made reference to EgyptAir Flight 804, which officials speculate was downed by a terror attack early Thursday morning.
"And by the way, ask Hillary who blew up the plane last night - another terrible, but preventable tragedy," Trump said.
The brash billionaire concluded, "She has bad judgement and is unfit to serve as President at this delicate and difficult time in our country's history."
—
Follow the author of this story on Twitter and Facebook: