A Florida public high school teacher was suspended for asking students a controversial question about Republican presidential candidate Donald Trump on a test.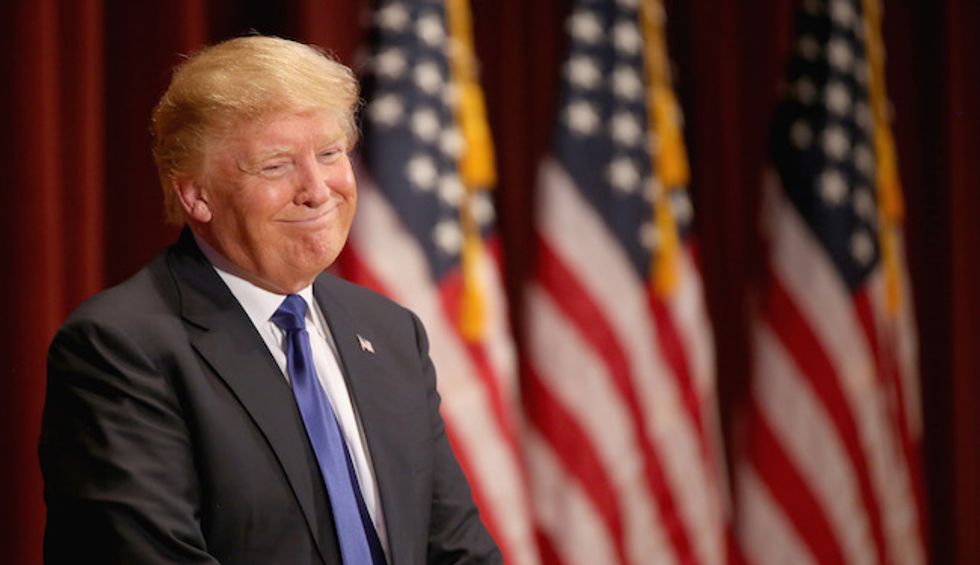 Christopher Furlong/Getty Images
Malik Leigh, who teachers at Palm Beach Lakes High School Law Academy, penned the following question to students on their final exam, the Palm Beach Post reported.
If Donald Trump becomes president of the United states, we are:

A. Screwed

B. Screwed

C. Screwed

D. Screwed behind a really YUGE wall that Mexico pays for.
Principal Cheryl McKeever called the question "wholly inappropriate" for the class.
"Specifically, the exam materials contain inaccurate content, irrelevant material, unprofessional use of language, inappropriate use of language and contain content outside of and not consistent with the curriculum for the Law Academy," McKeever added.
Leigh, however, defended asking the question, telling the Palm Beach Post, "To me, it was a funny question."
"I'm not pushing a political agenda," Leigh said. "I don't see why that would be offensive. They all tie into the classroom discussion."
The suspension came shortly after Leigh filed a lawsuit against the school, according to the Post, alleging that about 30 teachers, including himself, were not being re-hired for what he called political reasons.
The complaint alleges that the teachers being let go included those who were forced by school officials to change grades, reported paraprofessionals for abusing special needs students or those teachers who "had been seen speaking with those teachers."
This was not the first time Leigh had been criticized for questions asked of students.
The Post reported that on another assignment Leigh asked what would be the best technique for an attorney making an opening statement at a trial. The choices reportedly included winking at the judge, focusing on the hottest juror, talking to jurors like friends or "treating them like the MORONS they are."
(H/T: Young Conservatives)
— 
Follow the author of this story on Twitter and Facebook: