A San Fransisco sportscaster had a hard time containing his agitation when he realized during a live broadcast that the story he'd prepared to discuss had already been covered by his colleague minutes earlier.
KRON-TV's Gary Radnich was ready to talk about NBA star LeBron James' role in the new "Space Jam 2" movie, but moments before his segment began, he realized that fellow KRON reporter Catherine Heenan had already broken the news.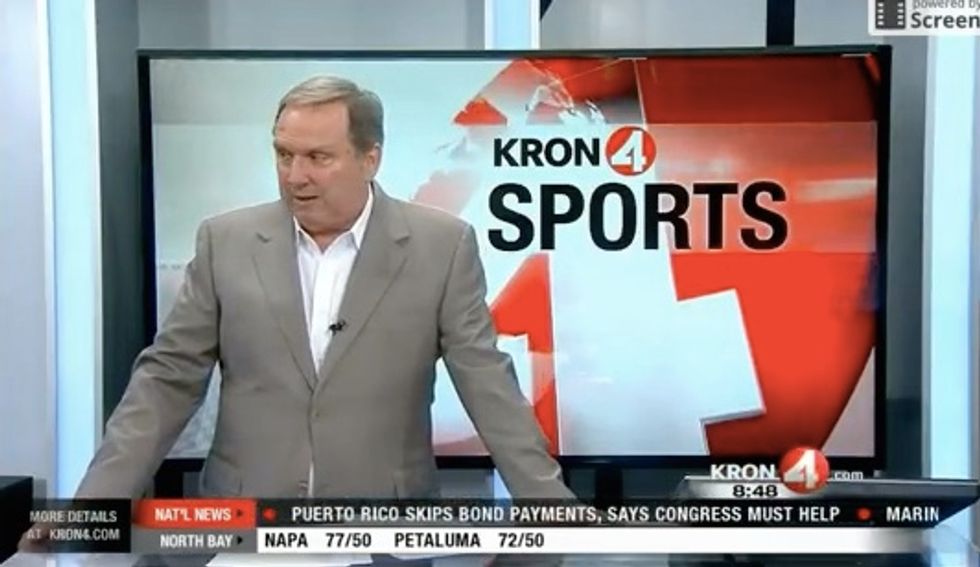 Image source: YouTube
"We should tell you LeBron James is gonna star —" he begins, before shooting Heenan a hateful glare, "— in 'Space Jam.'"
"We actually — oh. Are you mad? 'Cause I already said that," Heenan replied, sounding hesitant.
Then, as the cameras continued to roll during the live newscast, Radnich, who joined the station in 1985, according to his bio, proceeded to grill Heenan on her sports knowledge.
"How's Steph Curry's knee?" he asked before launching into a tirade, expressing his disbelief that Heenan would engage in such an act of betrayal.
"How long have we been friends? Twenty-three years," he said. "Have you ever — and I'm gonna say this with a smile — have you ever heard me say right before you came on, 'There's an irrigation problem in Gilroy'?" he fumed.
Heenan tried to laugh it off with an eye roll before telling her coworker that he'd have to discuss the matter with the station's producer, whom she claimed gave her "that lovely script."
"Don't try and pit me against the producer," Radnich shot back.
The sportscaster then addressed the camera, sharing with all of his viewers that Hennan was a longtime family friend.
"Catherine has stayed in my mother's home, she's written my mother notes and she's stolen my material," he said.
After the incident, some of Heenan's fans reached out on Twitter to voice their support.
"Sorry to see how Gary treated you on air," one follower named Matt Dalton wrote, adding, "We've all worked with jerks. He should apologize."
Heenan replied, thanking him while trying to downplay the uncomfortable event: "Thanks Matt — I know he was just trying to be funny, but I appreciate the support!"
Dalton replied that Radnich "should know better," calling the situation "awkward."
"Well done in that Gary R thing," another follower named Neal Cavanaugh tweeted. "You handled it great."
@CHeenan4 Well done in that Gary R thing. You handled it great. I stopped listening to Gary years ago because of his runaway ego.

— Neal Cavanaugh (@Neal Cavanaugh)1463802445.0
Cavanaugh shared with Heenan that he "stopped listening to Gary years ago because of his runaway ego."
On Saturday, Radnich wrote a Facebook post addressed to viewers who "thought [he] was mad," asking people to "please watch again" and see that he was actually only "playing."
Was it all just a bizarre joke? That's for viewers to decide.
—
Follow the author of this story on Twitter: