Fox News host Megyn Kelly confronted Black Lives Matter activist and former Baltimore mayoral candidate DeRay Mckesson Monday after the Baltimore police officer charged in the Freddie Gray case was acquitted on all charges.
Throughout the nearly 5-minute interview, Mckesson repeatedly implied that Officer Edward Nero and the five other officers involved in the ordeal are guilty, claiming the current system "guarantees officers will not be held accountable for their actions."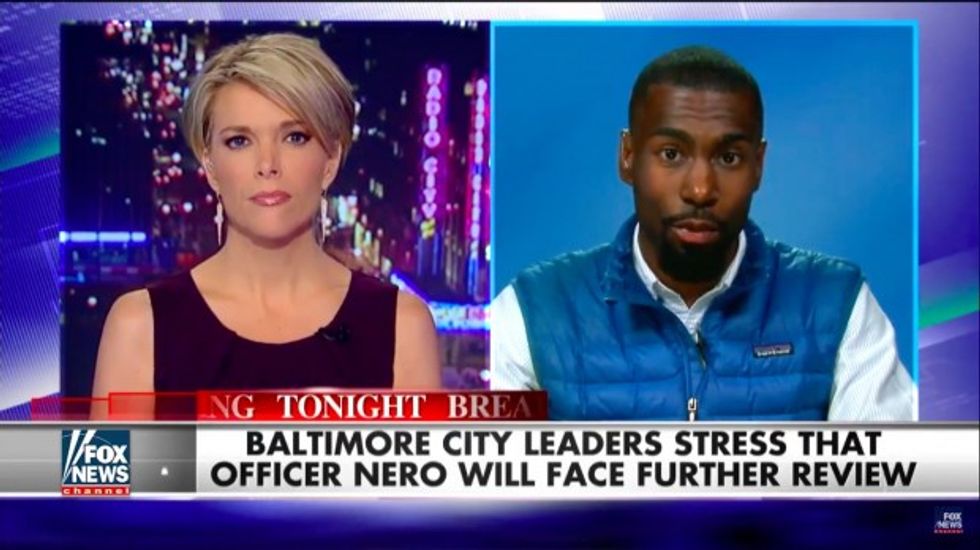 Image source: YouTube/Fox News
Kelly was quick to interrupt the Black Lives Matter protester, telling him "there are zero facts" to support the charges against Nero.
Throughout the remainder of the interview, the Fox News anchor repeatedly asked Mckesson what Nero did that was wrong. Mckesson never offered a clear answer. Instead, Mckesson continued to insist that the laws need to change in order to more easily prosecute law enforcement officials.
"Don't you see the danger to the community if we start locking up cops for making a bad judgement call?" Kelly asked Mckesson, who dodged the inquiry.
Kelly continued, "You're suggesting these cops killed this man, and I'm telling you, while Freddie Gray died in police custody, that has not yet been established. ... You're positing to the audience that these cops did it, and I'm telling the audience that, thus far, the evidence does not support that."
In the final moments of the discussion, Mckesson continued to tell Kelly that, by pushing him for specifics on Nero's trial, she was asserting "all of the other cases don't matter."
Kelly again told Mckesson he had his facts wrong, then abruptly ended the interview.
—
Follow the author of this story on Twitter: