Supporters of presumptive Republican presidential nominee Donald Trump launched a dating site for fans of the Manhattan mogul.
David Goss, co-founder of TrumpSingles.com, told MarketWatch that he and his business partner, Tim Burks, decided to launch the site because "supporters of Trump get a lot of flack."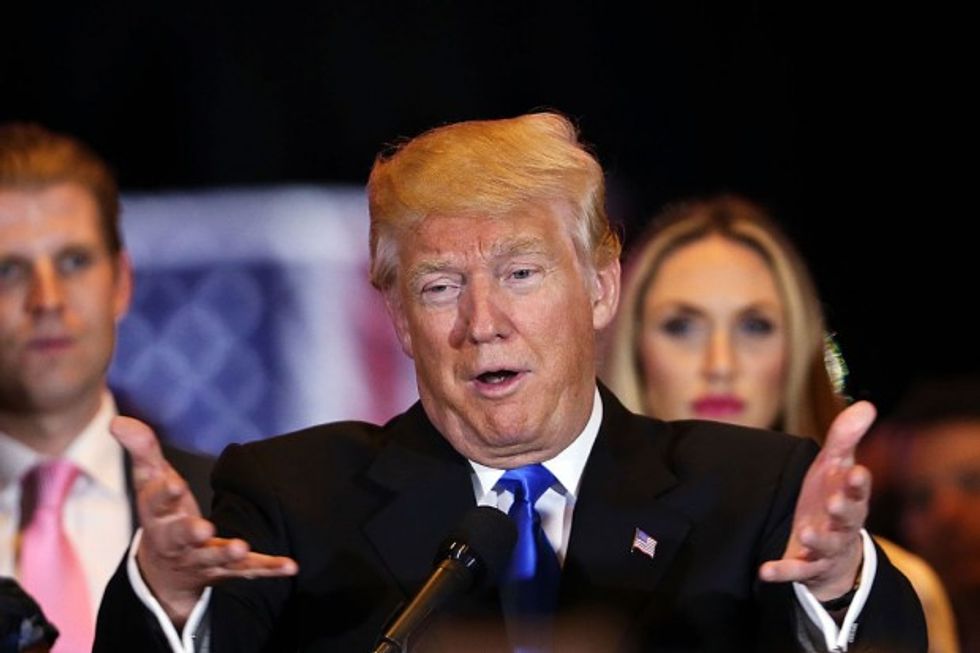 Spencer Platt/Getty Images
"There's so much hatred against us," Goss said. "There are those who absolutely despise people who support Trump. He's a businessman, but people don't look at that. They say, 'You're a racist or xenophobe,' or, 'You want to see America burn down to the ground.' It's the same with Bernie Sanders. Some people say, 'He just wants to give out free s**t to everybody.'"
Goss said that relationships can go "awry" when couples don't see eye-to-eye politically.
"I heard a story of a girl on a date who said she supported Trump and the guy got up and walked out, leaving her with the bill," Goss said.
So far, TrumpSingles.com has a mere 34 members.
"It's still extremely small," Goss said. "We started a Twitter account and Facebook page and started to do some marketing. We have two apps that are coming out later this week, and we're waiting for a full push of marketing until that comes out. Once we make the big push, everyone will know what's going on."
"We have to get people to be more comfortable being on the site," Goss added. "Some people told me that they want to support me and will do everything they can, but they don't want their face on something that is Trump-related. It's not that people don't like him. They are afraid of how they will be perceived for supporting him."
A similar site for supporters of Democratic presidential candidate Sen. Bernie Sanders (Vt.) launched earlier this year, and the rival websites have sparred on Twitter.
There are dating websites for winners (#TrumpSingles) and there are dating websites for losers ( @BernieSingles ). https://t.co/gExMc0odZ5

— TrumpSingles (@TrumpSingles)1463424167.0
One of us has 20,000 users connected. The other is you. https://t.co/U3BOUJ2ito

— Bernie Singles (@Bernie Singles)1463424223.0
An alternative website — Maple Match — was launched earlier this month in an effort to connect eligible Canadians with people who wish to leave the country should Trump be elected. Both Maple Match and TrumpSingles promise to "make dating great again."