Amid the chaos anti-Trump protesters created outside his rally at the Albuquerque Convention Center on Tuesday — hurling rocks, jumping on police cars, lighting fires and damaging property — another disturbing altercation took place.
As a rowdy crowd lined a sidewalk protesting the presumptive Republican presidential nominee, protesters named a pathway in front of them the "walk of shame" and chanted the phrase as Trump supporters entered the rally.
The protesters also threw water at Trump supporters — and one of those supporters, Dereck Scott, was in a wheelchair.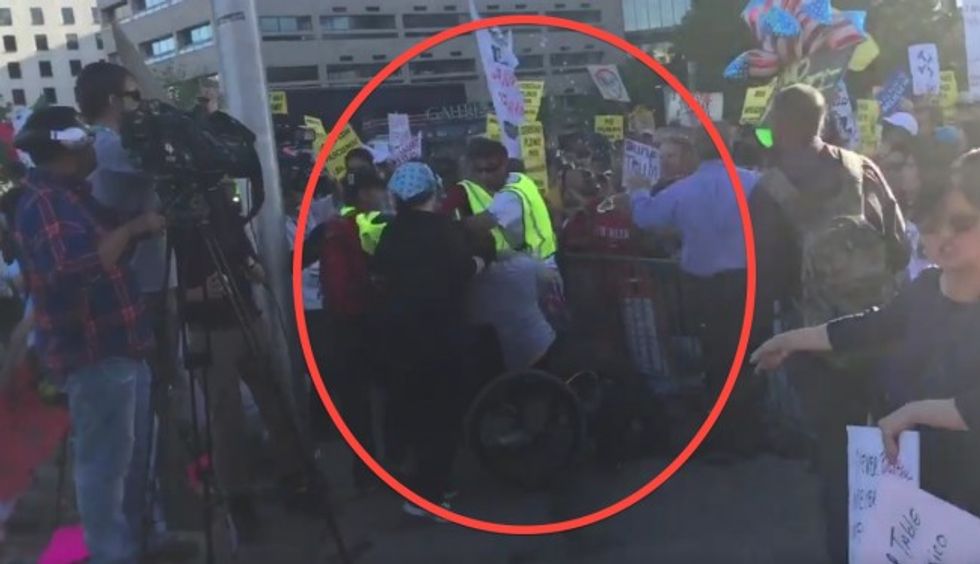 Image source: Twitter
Gabrielle Burkhart, a KRQE-TV reporter, tweeted two videos related to the incident. (Content warning: Strong language):
WARNING Language: Things get ugly btw. Protestors & Trump supporters, water thrown at guy in wheelchair @krqe pic.twitter.com/jy5aSf7u5O

— Gabrielle Burkhart (@gburkNM) May 25, 2016
WARNING language: Part 2 of scuffle btw. Trump supporter in wheelchair & protestors after water thrown @krqe pic.twitter.com/2k7aBBdP3q

— Gabrielle Burkhart (@gburkNM) May 25, 2016
"They just assaulted us!" Scott yelled to police officer standing just feet from the where the water was thrown.
Later, he talked to KRQE-TV on camera.
"These people have no clue what really goes on I guess," Scott said. "They're even going to lie to themselves about what they just did to a handicapped person who has a right to rally for the other side."
Scott's interview and other footage of the incident begins just after the 1-minute mark in the below clip:
(H/T: The American Mirror)