A school board candidate in Brevard County, Florida, was hauled away by police during a Tuesday meeting dealing with LGBT issues when he refused to cede his allotted speaking time.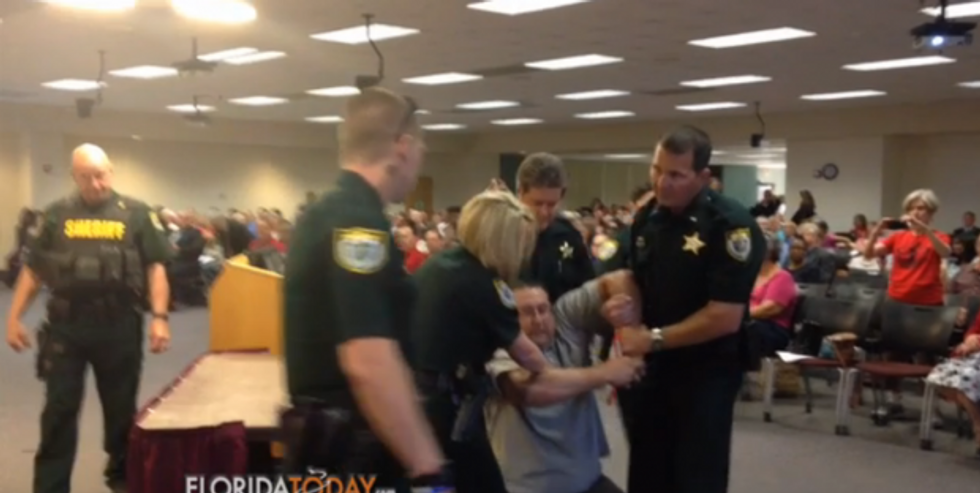 Florida Today
Dean Paterakis was asked by Brevard School Board chairman Andy Ziegler to vacate the speaker's podium for making so-called "inappropriate" remarks.
"That's what happened…we have a teacher who put his phone up on the big screen and showed, what students say, was his erect penis," Paterakis said.
"That's enough, Dean," Ziegler said. "It's not appropriate."
Several police officers quickly approached Paterakis to escort him out, but he continued to demand his right to "free speech." Several people in attendance at the meeting groaned and shouted in support of Paterakis after he was silenced.
"We want to hear it!" one person yelled.
"Let him speak!" another person yelled.
Paterakis resisted officers' attempts to remove him from the meeting and he was ultimately arrested and charged with disrupting a school function and resisting an officer without violence. He was released on a $750 bond.
Cpl. Dave Jacobs of the Brevard County Sheriff's Department said in a statement that the arrest was made after he "refused several lawful orders to leave the premises by uniformed deputies" and "continued verbally disrupting the function of the School Board meeting."
After the publication of this story, Brevard County School Board member Amy Kneessy told TheBlaze in an emailed statement that Dean Paterakis violated meeting rules by "talking about a teacher," which is a "personnel matter and not allowed at Board meetings due to possible slander."
Kneessy said Paterakis has a "LONG history of public disruptions of crowds" and accused him of "riling up the crowd" even before he got to the microphone.
Florida Today has more details on the LGBT policy being debated at the meeting:
School board members were voting on whether to schedule a public hearing about a proposed non-discrimination policy for lesbian, gay, bisexual, and transgender people. That meeting included many outbursts from the audience, including yells, cheers, and jeers.

Before the LGBT policy can be voted on, a public hearing must be scheduled. Though a vote on whether to schedule a public hearing is typically a pro forma vote, this is the point in the political process when a previous version of the LGBT policy was tabled by the school board. Since February, the debate about an LGBT policy in Brevard Public Schools has been heated and emotional on both sides.

During Tuesday's meeting, the board voted 3-2 in favor of scheduling a hearing on the LGBT policy.
Later in the meeting, Ziegler told residents that the school board would not allow "slanderous, abusive or profane speech" during the meeting. When people verbally objected to his comments, Ziegler threatened to clear the entire room.
"We can clear the room right now," he said. "You all want to continue? We can continue our business meeting. It's public, you don't have to be in attendance."
Watch the full exchange below via the Brevard Times:
---