Fox News host Greg Gutfeld unloaded on Katie Couric for edits in her documentary "Under the Gun" during a scathing monologue Tuesday on The Five.
In the documentary, Couric poses a question to proponents of the Second Amendment with the Virginia Citizens Defense League about preventing felons and terrorists from obtaining firearms and they appear to be stumped.
However, Gutfeld juxtaposed the audio from the documentary with the raw audio of the initial interview, in which they offer answers to her question.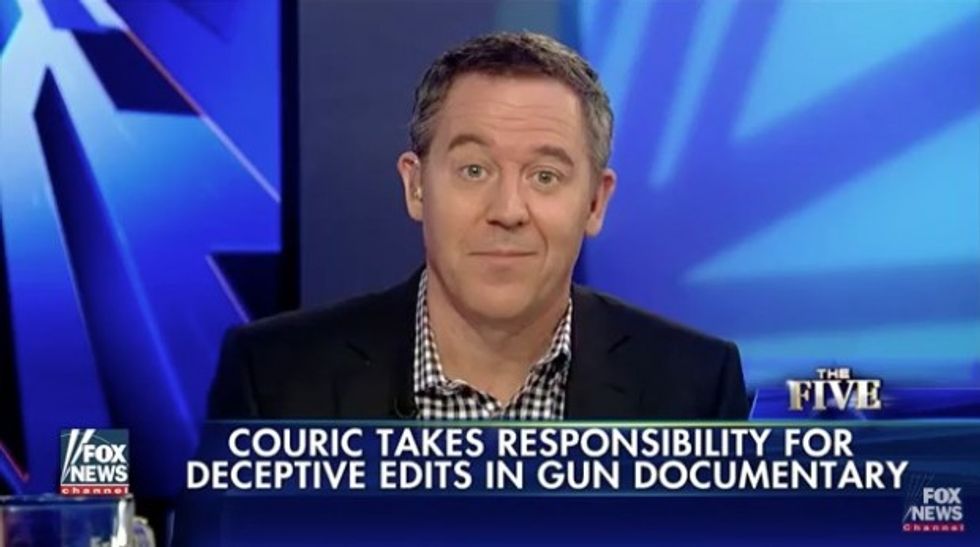 Image source: YouTube
"It was done to make her look smart and them dumb," Gutfeld said.
In a statement, Couric said that she regrets the edit, which she called "misleading."
"I take responsibility for a decision that misrepresented an exchange I had with members of the Virginia Citizens Defense League," she added.
Gutfeld expressed doubt that Couric's response was sincere.
"So why did she change her tune?" Gutfeld asked. "Because she got caught."
"If the incident hadn't been secretly taped, you think she would have copped to it?" Gutfeld said. "You've got to wonder how many other segments by Couric, Brian Williams, Jon Stewart or others would have been more fair if they knew someone was holding them accountable."
"So before any interview with the media remember to always press 'record,'" he said. "Not only do you protect yourself and the truth, you also keep people like Katie honest. Because someone has to."
Watch below:
—
Follow Kate Scanlon (@kgscanlon) on Twitter