The father of an 18-year-old woman who was murdered in 2013 "reached a breaking point" when he came face to face with his daughter's killer in a Cleveland courtroom Thursday.
Van Terry, whose daughter, Shirellda Terry, was murdered by Michael Madison three years ago, was giving his victim impact statement at Madison's sentencing hearing when he looked over at Madison and did the unexpected.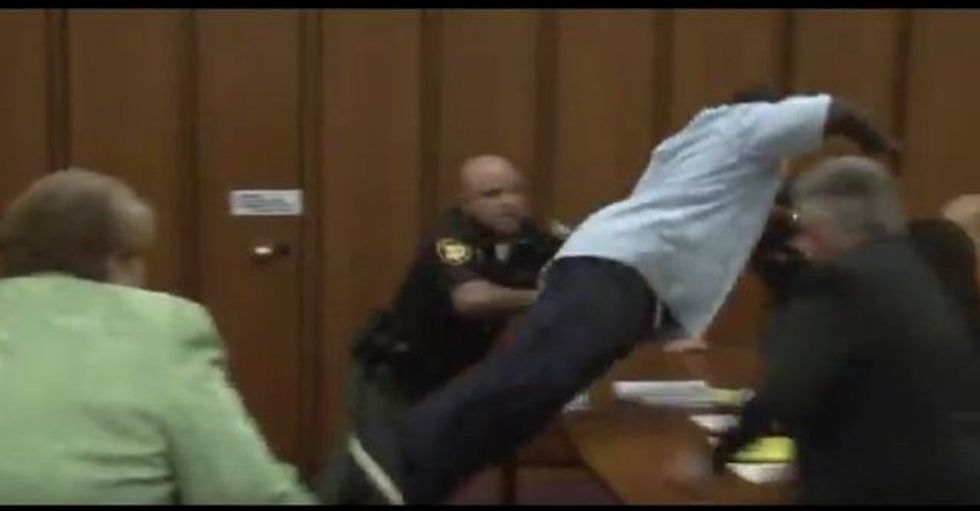 Image source: WEWS-TV
"The man reached a breaking point obviously, and the defendant was taunting him. He killed his daughter. This is the type of thing Mr. Madison finds amusing," Cuyahoga County prosecutor Tim McGinty told WEWS-TV.
"Michael Madison is a gutless coward," McGinty added.
Madison was convicted in May on 14 counts related to the killing, including aggravated murder, kidnapping, rape and abuse of a corpse. A jury at the time had recommended the death penalty for Madison, and he was sentenced to death at Thursday's hearing.
Madison was also convicted of killing two other women, according to WEWS-TV. McGinty said that throughout the trail Madison didn't show any remorse for his actions, perhaps triggering the courtroom confrontation caught on camera.
Video showed authorities rushing to contain the emotional father, who was later led out of the courtroom. It was not immediately clear whether Terry would be charged.
(H/T: WEWS-TV)
—
Follow the author of this story on Twitter and Facebook: