After a decade-long hiatus, the Dixie Chicks are back with a new Republican rival.
The group kicked off their first tour since 2006 this week, using Republican presidential candidate Donald Trump as the inspiration for their stage setup.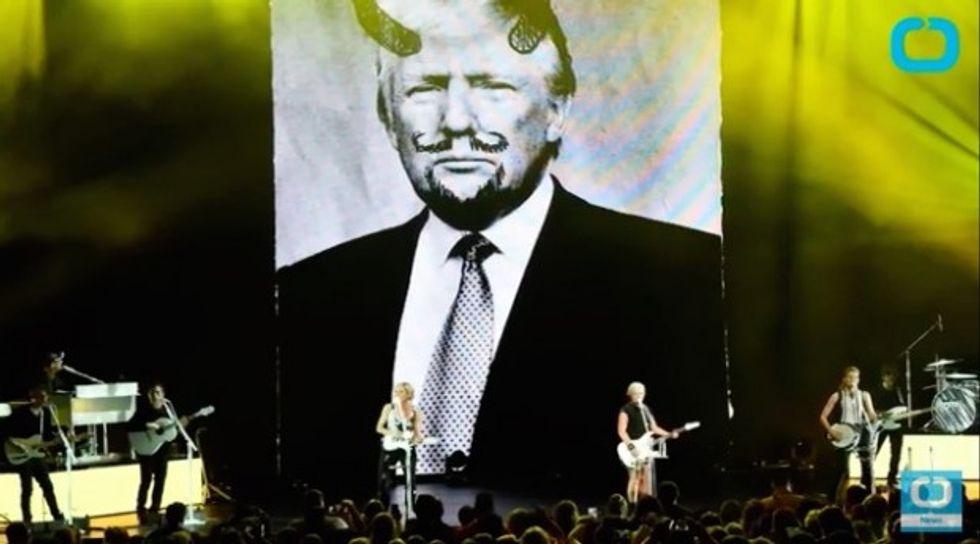 Image source: YouTube
The liberal country-pop trio opened their DCX World Tour MMXVI Wednesday in Cincinnati with classics like the 1999 hit, "Good Bye Earl." As the song played, a slideshow playing in the background flashed a photo of Trump with devil horns, mustache and goatee.
Lead singer Natalie Maines has never been one to shy away from expressing her political views. In 2003, Maines delivered a mid-concert monologue in which she openly bashed then-President George W. Bush for entering the country into the War in Iraq. Despite the backlash the group received as a result, the singer refused to retract her statements.
As long as Donald Trump's decisions for America are as solid as his decision about his hair, we're in good shape.

— Natalie Maines (@Natalie Maines) 1453606776.0
And it's no coincidence that the group displayed the defaced photo of Trump during "Good Bye Earl," a song about a woman who kills her abusive husband. Trump has long received criticism for his reportedly misogynistic behavior.
But Maines' anti-Republican criticism is not reserved for the presumptive nominee. When Texas Sen. Ted Cruz was still in the race, the singer expressed her distaste by attacking the candidate on Twitter.
Just so you know....I'm ashamed Ted Cruz is from America;) https://t.co/QU39ERnAzN

— Natalie Maines (@Natalie Maines) 1453605645.0
"Just so you know....I'm ashamed Ted Cruz is from America;)," Maines tweeted back in January, before realizing that Cruz is a Canadian-born naturalized citizen.
I stand corrected...Just so you know, I'm ashamed Ted Cruz claims to be American. https://t.co/JUltNImOXH

— Natalie Maines (@Natalie Maines) 1453607770.0
Watch:
(H/T: E News)