A group of high school students thought it would be funny to plan a "senior prank" that paid homage to a certain presidential candidate. But what began as a joke ended up offending some of the school's Latino students.
A few dozen seniors at McDowell High School in Marion, North Carolina, built a wall out of cardboard boxes blocking off access to a common area in the school, WLOS-TV reported.
Students later posted photo of the wall with about 30 students standing in front of it on Instagram with a caption that read, "We built the wall first." A male student sitting front and center in the photo is wearing a "Trump" campaign t-shirt.
The photo was shared on other accounts, including one called "Students for Trump."
According to WLOS, students were allowed access to the school Wednesday night to perform the prank with a faculty supervisor standing by.
After the photo was posted, Latino students Marta Guardian and Johnny Campos told WLOS they met with principal Edwin Spivey to raise a few concerns over the photo and some racist comments that reportedly followed.
Spivey reportedly apologized to the students Friday during their meeting and set up a follow-up meeting Monday to brainstorm ways to "repair relationships" with fellow students.
McDowell County Schools spokesman Brian Oliver told WLOS that the students involved in the prank will not face any disciplinary action.
"In viewing the actual photo and what took place, there's not anything offensive in the photo," Oliver explained. "There was no offensive activity at the time. What became offensive or concerning was what took place on social media afterwards."
But student Marta Guardian disagreed. She told WLOS that the photo itself was offensive "because it hurts a lot of people's feelings."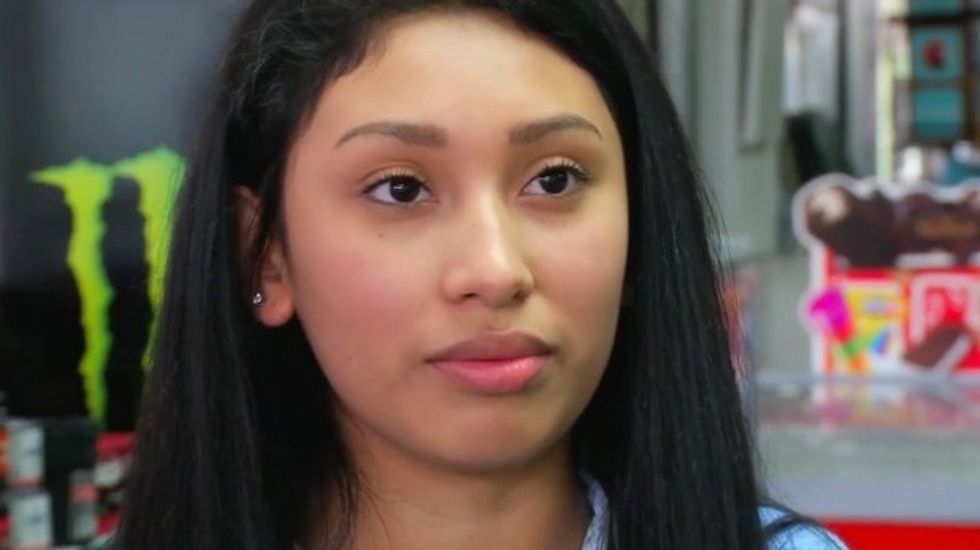 Marta Guardian (Image source: WLOS-TV)
"My mom and dad have done a lot for me. And other families do that too. But people seem to see them as bad people," Marta, a first-generation American born in North Carolina, said.
"Some kids are left alone here because their parents are illegal, and their kids are left here because they are legal and their parents get deported," Marta continued. "They separate families. That is not OK."
Johnny Campos, who was in the meeting with Marta and principal Spivey Friday morning, released the following statement to WLOS:
I am the president of the Hispanic Youth Club. After this incident was brought to my attention, I asked to meet with our principal, Mr. Spivey. It was a very productive meeting, and I believe Mr. Spivey will handle this in a way that helps everyone begin to repair relationships. McDowell High School is a great place, and I want the Class of 2016 to be known for building bridges for a better tomorrow — not judged by the insensitive actions of a few people.
Marta said that the goal of the meeting with Johnny and Spivey Monday is to "come up with ways to be united in the school."
"And I think we should do that," Marta said. "Because we're all a community, and we all should be friends. We're all humans."