"Tonight, we made history."
After playing it coy since the Associated Press reported that Democratic presidential front-runner Hillary Clinton became the presumptive nominee of the party due in part to superdelegates, Clinton seems to see herself as the party's choice as well. Clinton won New Jersey's Tuesday night primary, further cementing her lead over Vermont Sen. Bernie Sanders in terms of delegates.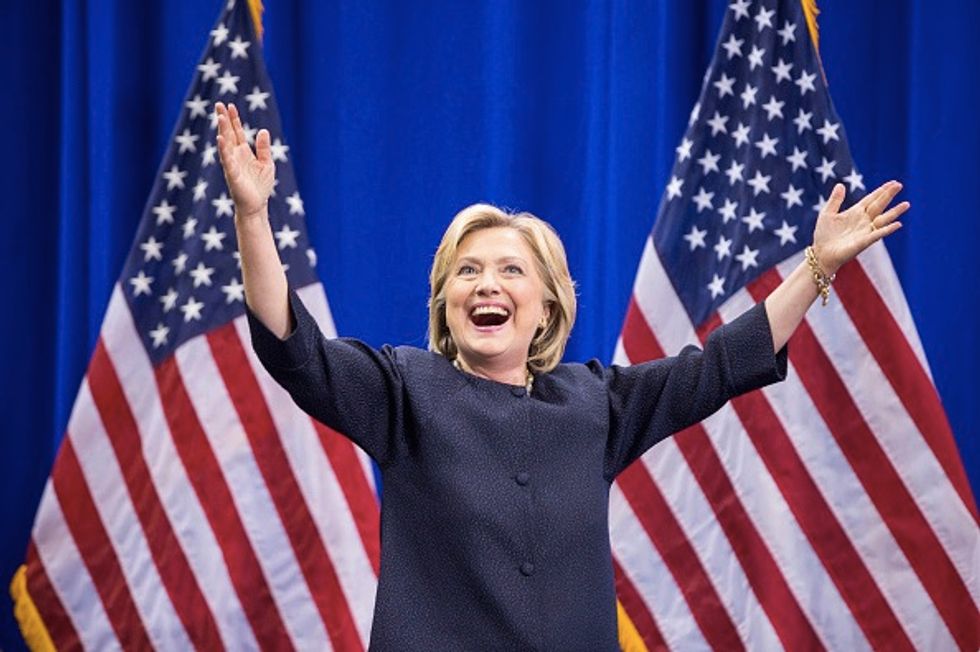 Democratic presidential candidate Hillary Clinton. (Getty Images/Scott Eisen)
On social media and in messages to supporters, Clinton touted the historical significance that she would make as the first woman to capture a major-party nomination for president. 
"After all our hard work and tough fights — and an unwavering commitment to love, kindness, our country, and each other — we broke one of the highest, hardest glass ceilings in America," an email to supporters late Tuesday night read. "Together, we secured the Democratic nomination. For the first time ever, a woman will be a major party's nominee to become President of the United States."
Clinton texts supporters to ask for donations after she says she has "secured the Democratic nomination" https://t.co/o1qi1xRofa

— Kaitlyn Schallhorn (@Kaitlyn Schallhorn)1465350078.0
Clinton changed her Twitter avatar to say, "History Made."
"To every little girl who dreams big: Yes, you can be anything you want — even president. Tonight is for you," one tweet that seemingly came from Clinton herself as it was signed with a "-H" said.
Tonight, we can say with pride that, in America, there is no barrier too great and no ceiling too high to break. https://t.co/7vbGPJe543

— Hillary Clinton (@Hillary Clinton)1465348866.0
Tonight's only possible because millions of organizers, volunteers, and donors fought for this campaign. Thank you. https://t.co/UiFAGLR7Sf

— Hillary Clinton (@Hillary Clinton)1465349508.0
While it was widely reported that Clinton became the presumptive Democratic nominee Monday night, Sanders' campaign wasn't yet ready to back down just then.
Campaign spokesman Michael Briggs said in a statement that as Clinton did not have the required number of delegates — superdelegates aside — to clinch the nomination outright, she should not be considered the presumptive nominee.
"Secretary Clinton does not have and will not have the requisite number of pledged delegates to secure the nomination," Briggs said Monday night. "She will be dependent on superdelegates who do not vote until July 25 and who can change their minds between now and then."
"Our job from now until the convention is to convince those superdelegates that Bernie is by far the strongest candidate against Donald Trump," Briggs said.
Clinton addressed her supporters regarding her historic win in Brooklyn, N.Y. later Tuesday night — congratulating Sanders and taking aim at Trump.
"When he says let's make America great again, that is code for let's take America backwards," she said.
—
Follow Kaitlyn Schallhorn (@K_Schallhorn) on Twitter