LILONGWE, Malawi (TheBlaze/AP) — Edna Cedrick is haunted daily by the image of the decapitated head of her 9-year-old son. Police asked the mother to identify it after the boy, who had albinism, was snatched from her arms in a violent struggle.
The death in February was one in a recent surge in killings and abductions of people with albinism in the southern African country of Malawi. They are targeted for their body parts, which are sold to be used in potions made by witch doctors who claim they bring wealth and good luck.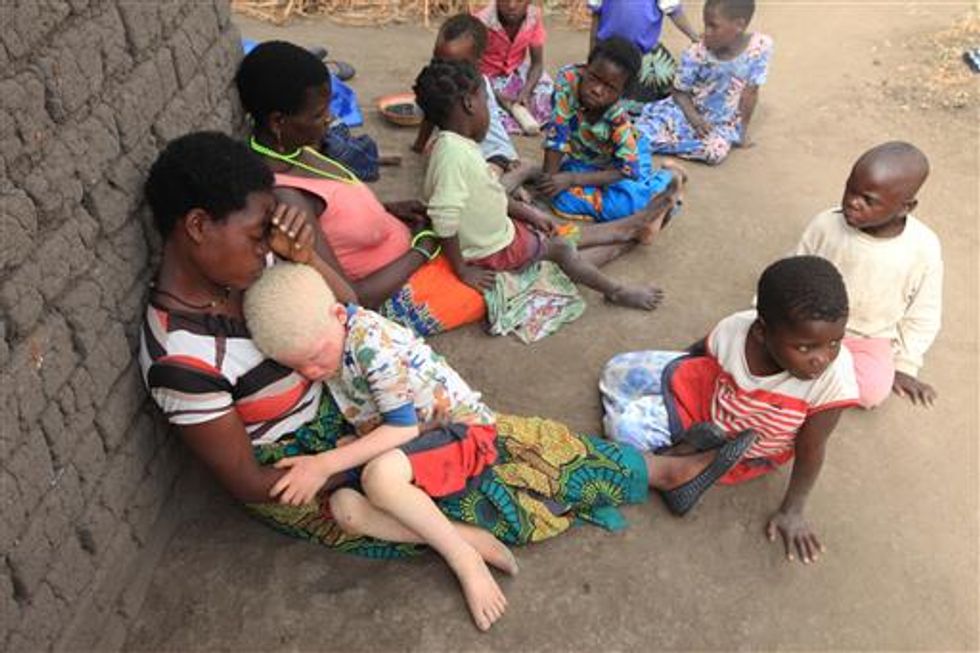 Edna Cedrick, left, holds her surviving albino son after his twin brother who had albinism was snatched from her arms in a violent struggle May, 24. (AP Photo/Tsvangirayi Mukwazhi)
At least 18 albino people have been killed in Malawi in a "steep upsurge in killings" since November 2014, and five others have been abducted and remain missing, according to a new Amnesty International report released Tuesday. The toll is likely much higher because many killings in rural areas are never reported, according to the study. Malawi police also have recorded cases where the dead bodies of people with albinism have been illegally unearthed.
Cedrick, the mother of the murdered boy, recounted his abduction to the Associated Press last month while holding the murdered boy's surviving twin brother, who also has albinism. In the middle of the night, she said, she woke to the sound of people kicking down the door of the house. Her husband was away at the time.
"Before I could understand what was happening, they sliced the mosquito net and grabbed one of the twins," the 26-year-old said, tears in her eyes. "I held on to him by holding his waist, at the same time shielding the other with my back."
When they could not overpower her, one assailant hacked her in the forehead with a machete, she said. "This dazed me, and I lost hold of my son and he was gone. I shouted for help, but when my relatives rushed to our house, they were gone."
The boy's twin keeps asking where his brother is, she said. She lies, saying he will return.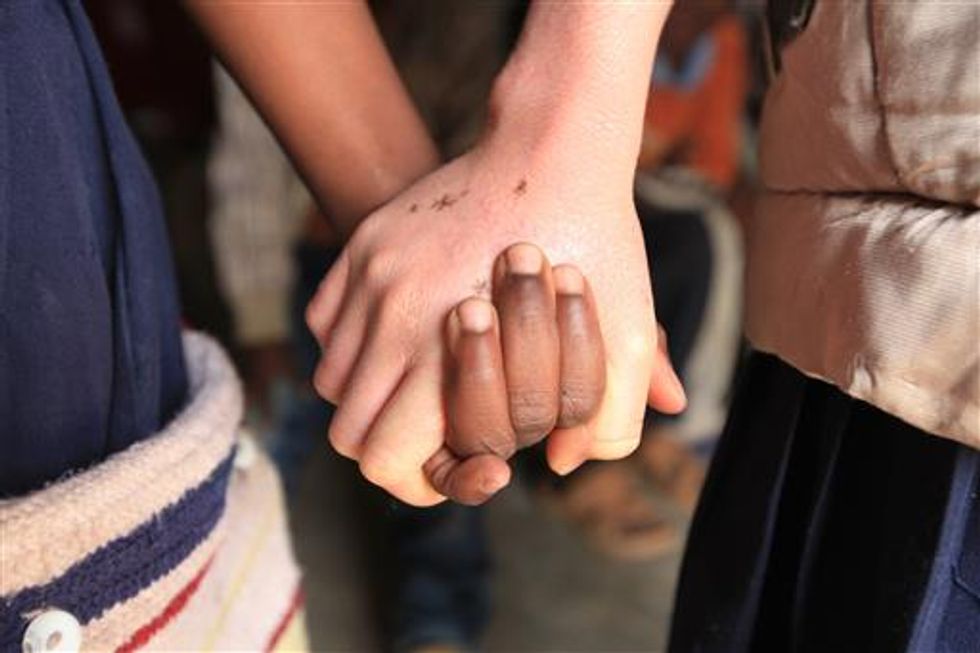 AP Photo/Tsvangirayi Mukwazhi
On the same day of the interview, a deadly attack was carried out in another part of Malawi on 38-year-old Fletcher Masina, an albino father of four. When his body was found, the limbs were missing.
"The macabre trade is also fueled by a belief that bones of people with albinism contain gold," Amnesty International noted Tuesday.
The report added that another mistaken belief is that sex with a person with albinism can cure HIV and that there is widespread discrimination against people with albinism, including by family members.
Activists in Malawi recently took to the streets to protest, marching to Parliament to present a petition calling for strict penalties for people who attack or kill people with albinism. President Peter Mutharika has since established a committee to look into the issue, which he called disgusting.
"That anybody could think that you can be rich by using bones or something like that because some witch doctors have said so. ... That's stupidity," he said at a political rally June 1.
Police acknowledge that a lack of security has caused persons with albinism, and their families, to live in fear of attack.
"In rural areas where these attacks are rampant, we do not have enough police officers," Isaac Maluwa, the officer in charge in Machinga district, said.
When an AP crew in Machinga district stopped to talk to a man riding a bicycle and carrying a 3-year-old albino boy, he charged at the crew with a knife.
The man, 31-year-old Razik Jaffalie, later explained that he is in dire straits after giving up his work as a bicycle taxi operator to protect his son.
"My life has come to a standstill," Jaffalie said, then declared: "Anyone who will come to try to snatch my child from me will have to kill me first."
Deprose Muchena, Amnesty International's director for southern Africa, concluded: "The time has come for the government of Malawi to stop burying its head in the sand and pretending that this problem will just go away."