Joe Scarborough, co-host of MSNBC's "Morning Joe," opened Tuesday's show with a rant directed toward Republican officials about Donald Trump.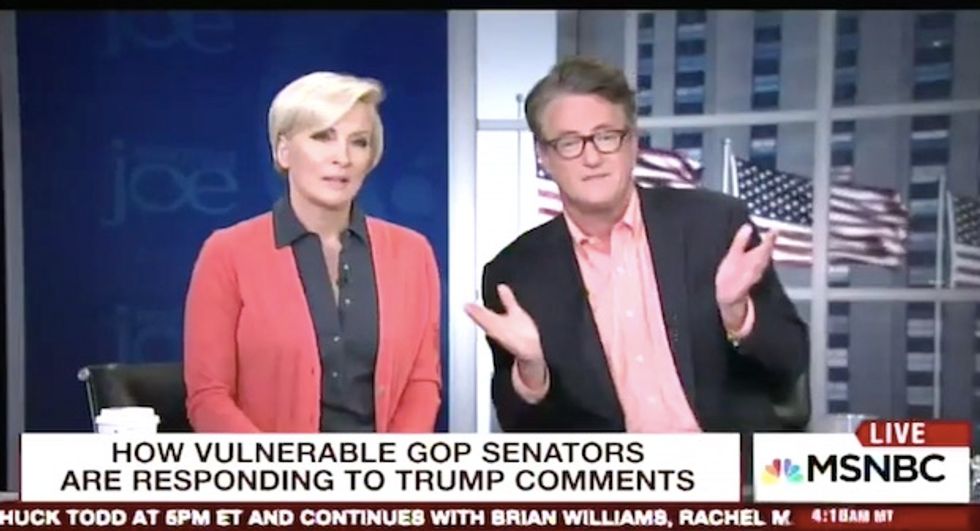 Image source: YouTube
Since the GOP's presumptive presidential nominee appeared to double-down on his comments about the ethnicity of the judge presiding over the Trump University lawsuit, Scarborough apparently saw enough.
After highlighting comments from Trump supporters such as Sen. Lindsey Graham (R-S.C.) and Sen. Kelly Ayotte (R-N.H.) — who denounced Trump's statements while still endorsing him — Scarborough delivered a stern, two-minute warning to the GOP.
"It's time to stop right now," Scarborough said as he hit his desk with both hands. "Right now you're letting your presumptive nominee, who is making racist statements, run roughshod over what remaining national reputation we have as a national party."
Scarborough's warning about the down ballot damage Trump could do to the GOP continued: "You have to start calling him out and saying you're going to retract your endorsement today — or else the United States Senate is in danger. Kelly Ayotte's seat is in danger. Rob Portman's seat is in danger. Ron Johnson's seat is in danger."
The former GOP congressman also took Paul Ryan to task: "If the Speaker of the House continues to endorse a man making racist statements and really tearing away at the very fabric of Madison's separation of powers that talks about an independent judiciary, then the House of Representatives is in danger."
Scarborough finished his lecture to the GOP with an ominous prediction: "Republicans, call him out, back away from those endorsements, make him back down on the Muslim ban, make him back down on this racist comment that he's made about a man born in Indiana, saying he's incapable of being a fair judge because of where his parents were born or else you will lose the Senate, you will lose the House, you will lose the presidency, you will lose governorships, you will lose your standing as a national party. It's that simple."
Watch Scarborough's rant:
__
Follow the author of this story on Twitter and Facebook: