A 65-year-old Christian man was hacked to death by Islamic State militants Sunday at the grocery store where he worked in northwest Bangladesh, police told the AFP.
Sunil Gomes had just returned from Sunday prayers at a nearby Catholic church.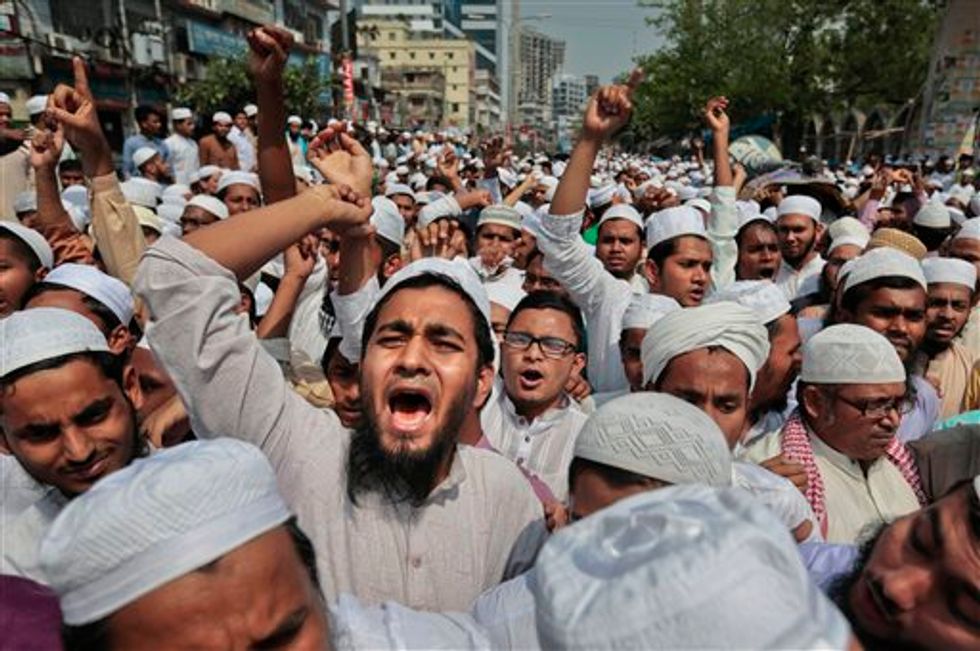 Thousands of Muslim devotees rallied March 25 in Bangladesh's capital to denounce a court petition seeking to remove Islam as state religion in the Muslim-majority South Asian nation. (AP Photo/ A.M. Ahad)
The attack took place in the village of Bonpara, the birthplace of one of the oldest Christian communities in Muslim-dominaed Bangladesh, the AFP reported.
"I can't imagine how anyone can kill such an innocent man," Father Bikash Hubert Rebeiro, from the Bonpara Catholic church, told the AFP.
Rebeiro said Gomes, whose brother is a priest, used to work as a gardener at the church and was "known for his humility."
The Islamic State claimed responsibility for Gomes' murder through its Amaq news agency, claiming that it was "part of a series of operations" the terror group was planning in Bangladesh.
On Tuesday, a 70-year-old Hindu priest was hacked to death in southwestern Bangladesh, the Associated Press reported.
Ananda Gopal Ganguly was reportedly on his way to temple when his attackers approached him in a secluded part of a village in the country's Jhenaidah district, police superintendent Altaf Hossain told CNN.
Hossain said that police never receive complaints about threats or attacks targeting the Hindu community in the village.
"We believe the attackers came from outside the village," Hossain said.
The Islamic State has claimed responsibility for some of the recent hacking attacks, according to SITE Intelligence Group, but authorities have denied that the terror group has a presence in the country, the AP reported.
The government of Prime Minister Sheikh Hasina says homegrown groups are responsible for the attacks to create chaos in the country.