Unlike some of the other Christian business owners who have made headlines of late, two Phoenix-area artists haven't been sued or fined for refusing to offer services for a same-sex wedding, yet the two women are still very likely headed to court.
Why, you ask? Joanna Duka and Breanna Koski, owners of art company Brush & Nib, have filed a lawsuit against the city of Phoenix, Arizona, over a non-discrimination law that they claim violates their religious rights.
Duka and Koski, who met at a Bible study and later launched Brush & Nib, which creates art and calligraphy projects for a variety of purposes, including weddings, believe in "only creating art consistent with their Christian beliefs," according to Alliance Defending Freedom attorney Jonathan Scruggs.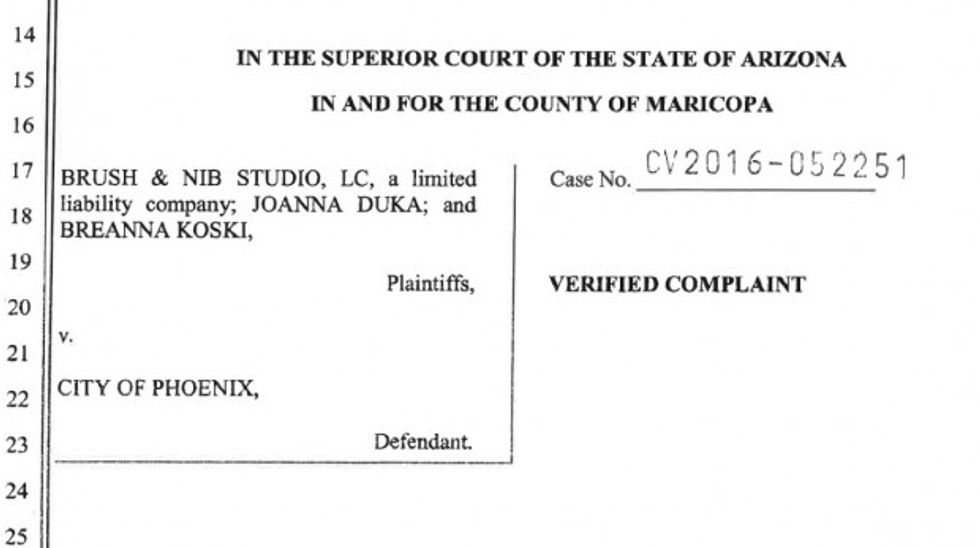 Alliance Defending Freedom
"The pair willingly serve and will create art for anyone, but they cannot create art promoting certain messages and ideas. For example, Brush & Nib doesn't create art that demeans others, promotes racism or objectifies the female body," Scruggs wrote in an op-ed for the Arizona Republic. "They also do not create art that violates their Christian beliefs about marriage."
At the center of the dispute is Phoenix City Code 18.4(B), which the lawyer said leaves the women with three options if they refuse to create art that violates their religious conscience: "go to jail, forsake their beliefs or shut down their business." The code reads, in part:
No person shall, directly or indirectly, refuse, withhold from, or deny to any person, or aid in or incite such refusal, denial or withholding of, accommodations, advantages, facilities or privileges thereof because of race, color, religion, sex, national origin, marital status, sexual orientation, gender identity or expression, or disability nor shall distinction be made with respect to any person based on race, color, religion, sex, national origin, marital status, sexual orientation, gender identity or expression, or disability in connection with the price or quality of any item, goods or services offered by or at any place of public accommodation.
Rather than comply, Duka and Koski have decided to take action, and are asking a court to allow them to be exempt from having to create art for gay weddings and the like, with Scruggs explaining why they are so fervently opposed to the city's non-discrimination measure.
"Although the two young women happily create art for everyone regardless of sexual orientation, Phoenix interprets its law to require them to create art for events, like same-sex wedding ceremonies, that are completely at odds with their religious beliefs," the lawyer wrote. "Phoenix also interprets its law to prevent them from explaining their religious beliefs and why they must create art consistent with their beliefs."
So, rather than wait until they decline a couple's wedding request and land themselves in the headlines and potentially facing fines, the duo have decided that taking the issue to the courts is the best course of action.
Their effort, known as a "pre-enforcement challenge," wages pushback to a law before it has been enforced against them.
"Joanna and Breanna are exposing the pre-existing tension between Phoenix's law and their constitutionally protected freedoms, between the right to speak and create freely and the government's attempt to crush dissent and command conformity," Scruggs continued. "And that is precisely what's at stake."
Read the attorney's entire op-ed explaining the legal battle here.
(H/T: Arizona Republic via MRCtv)
--
Follow the author of this story on Twitter and Facebook and check out his new book "The Armageddon Code: One Journalist's Quest for End-Times Answers":