The shooter who carried out the worst mass killing in American history was enrolled in an Islamic seminary run by an ex-con released from prison last year who prosecutors say recruited others for terrorism, sources told Fox News.
Omar Mateen — who police said killed at least 49 at Pulse, a gay nightclub in Orlando, early Sunday morning before SWAT teams fatally shot him — was a radical Muslim enrolled at Marcus Dwayne Robertson's Fundamental Islamic Knowledge Seminary, a law enforcement source told Fox News.
At the online school — recently renamed Timbuktu Seminary, Fox News said — Robertson, 47, is known as Abu Taubah.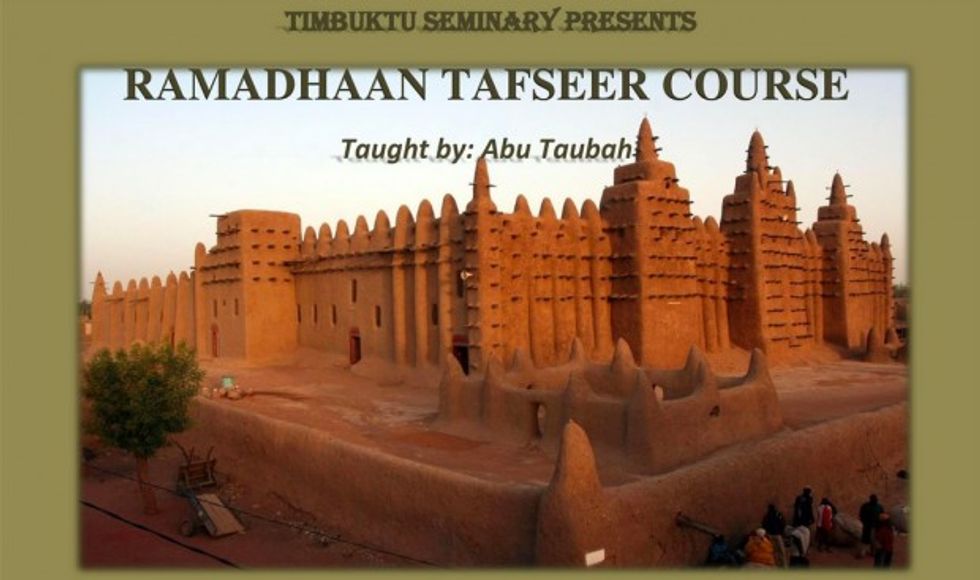 Image source: Timbuktu Seminary website
Law enforcement sources told Fox News that Robertson was taken in for questioning early Sunday morning, but his longtime attorney Corey Cohen wouldn't comment if Robertson was in custody.
Police didn't confirm or deny picking up Robertson, Fox News said.
Robertson is a former U.S. Marine who allegedly was a bodyguard for the infamous Blind Sheik who led the 1993 World Trade Center bombing, Fox News said. He also headed a New York bank robbery gang called "Ali Baba and the 40 Thieves" before starting an Islamic seminary in Orlando where he "openly and enthusiastically preached against homosexuality," Fox News added.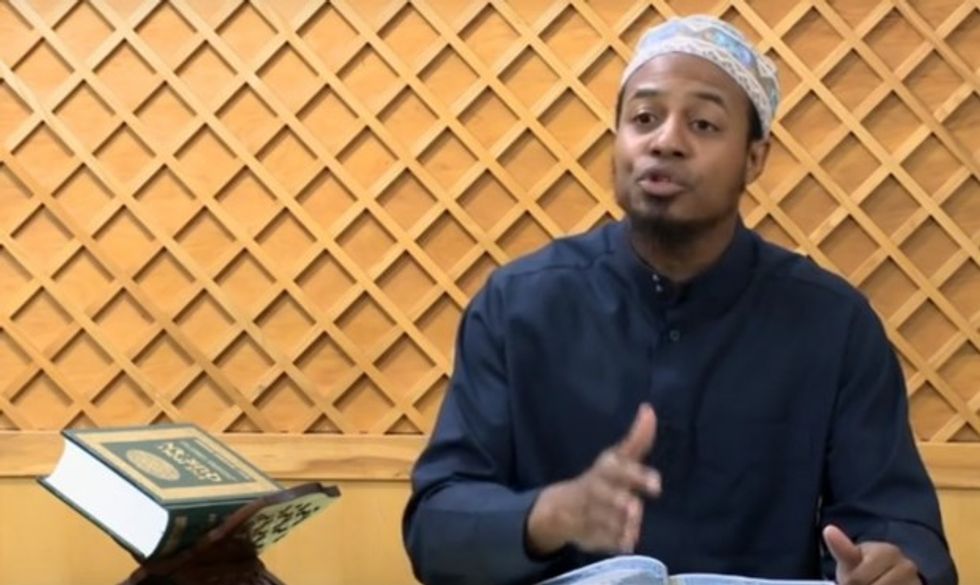 Abu Taubah, a.k.a. Marcus Dwayne Robertson (Image source: YouTube)
More from Fox News:
Prosecutors said wiretaps from 2011 proved Robertson instructed one of his students, Jonathan Paul Jimenez, to file false tax returns to obtain a tax refund to pay for travel to Mauritania for terror training.

Jimenez studied with Robertson for a year in preparation for his travel to Mauritania, where he would study and further his training in killing, suicide bombing, and identifying and murdering U.S. military personnel. He pleaded guilty in 2012 to lying to authorities and conspiring to defraud the IRS and was sentenced to 10 years in federal prison.

Robertson was arrested on a firearms charge in 2011 and pleaded guilty in January 2012. On March 14, 2012, federal authorities charged him with conspiring to defraud the IRS, which he was convicted of in December 2013.

While in the John E. Polk Correctional Facility in Seminole County, Robertson was considered so dangerous, he was kept in shackles and assigned his own guards. Whenever he was transported to court, a seven-car caravan of armed federal marshals escorted him. He was initially moved into solitary confinement after prison authorities believed he was radicalizing up to 36 of his fellow prisoners.
In their attempt to add enhanced terrorism charges and another 10 years to his sentence, prosecutors said Robertson was involved with terrorism activities "focused on training others to commit violent acts as opposed to committing them himself" and "overseas instead of inside the United States," Fox News reported.
But U.S. District Judge Gregory Presnell freed Robertson in June 2015 with time served, Fox News said, adding that Robertson denied involvement in terrorist activities.
More from Fox News:
As a former U.S. Marine who became the leader known as "Ali Baba" of a notorious New York gang "Ali Baba and the 40 Thieves," Robertson and his crew robbed more than 10 banks, private homes and post offices at gunpoint, shot three police officers, and attacked one cop after he was injured by a homemade pipe bomb.

During the same period, federal authorities claimed Robertson served as a bodyguard to Omar Abdel Rahman, nicknamed the "Blind Sheik," who led the terrorist group that carried out the 1993 bombing of the World Trade Center and donated more than $300,000 in stolen funds to mosques he attended, both claims Robertson denied. Robertson has adamantly denied the claims.

After he was arrested in 1991 along with most of the other members of the gang, prosecutors cut a deal with Robertson, and let him serve four years in prison before going to work undercover for the FBI between 2004 and 2007 to document terrorists' plans and networks in Africa, Egypt and the United States.

Many of the court's filings, including Robertson's own testimony from his most recent criminal case, remain under federal seal, which means only prosecutors, the judge and the defense can review the records.