A North Texas terror attack expert has some counterintuitive advice for surviving an attack like the one that devastated the Orlando community over the weekend: Fight for your life.
According to Clint McNear, terrorists are too often easy opportunities to kill many people at once. Those looking to inflict mass casualties often choose what McNear calls "soft targets" — places like concert halls, cafes, public transit or, as the nation saw Sunday, nightclubs.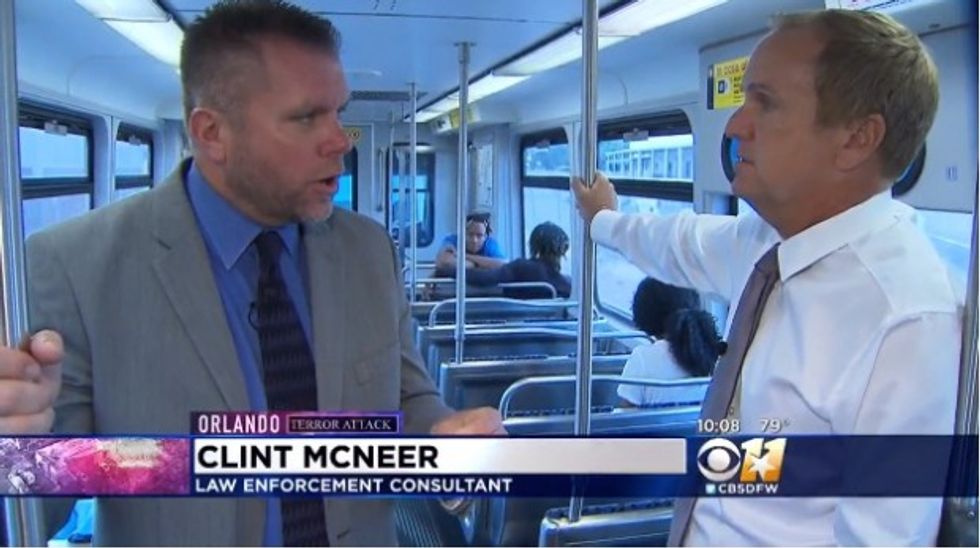 Image source: KTVT-TV
Sunday's attack on Pulse nightclub in Orlando should be a wake-up call, McNear told KTVT-TV.
But the retired Garland County police officer and terrorism expert offered some life-saving advice that many wouldn't think of if a gunman opened fired unexpectedly. He prescribes adopting a warrior mentality.
"You've got to pick up a vase. You've got to fight for your life," McNear told KTVT.
But, he says, casualties can be prevented and reduced if instead of hiding, people go after the attacker.
"You're a doomed captive, there are no longer hostages, you're a doomed captive. Run, [and] if you can't get out, fight," says McNear.
Though he acknowledged that this approach may not be ideal for everyone, McNear said that if one person goes after the attacker, others will follow. That's what he says saved lives during the 2009 Fort Hood massacre, where soldiers fought the gunman.
"If I hear the 'Allahu Akbar' chant, if I hear the sound of gunfire, make a decisive decision. Do something immediately," he said.
McNear, who travels the country teaching personal safety in terrorism situations, said that situational awareness can make a the difference between living and dying.
"Once people see the first man fight, people want to follow, they want to live," he told KTVT, "If you can't get, out I would rather die fighting than lie there waiting to die."
Watch: