Anyone on a terror watch list who attempts to purchase a gun should be "thoroughly investigated by the FBI" and the sale should be "delayed" until the case is closed, the National Rifle Association said in a statement on Wednesday.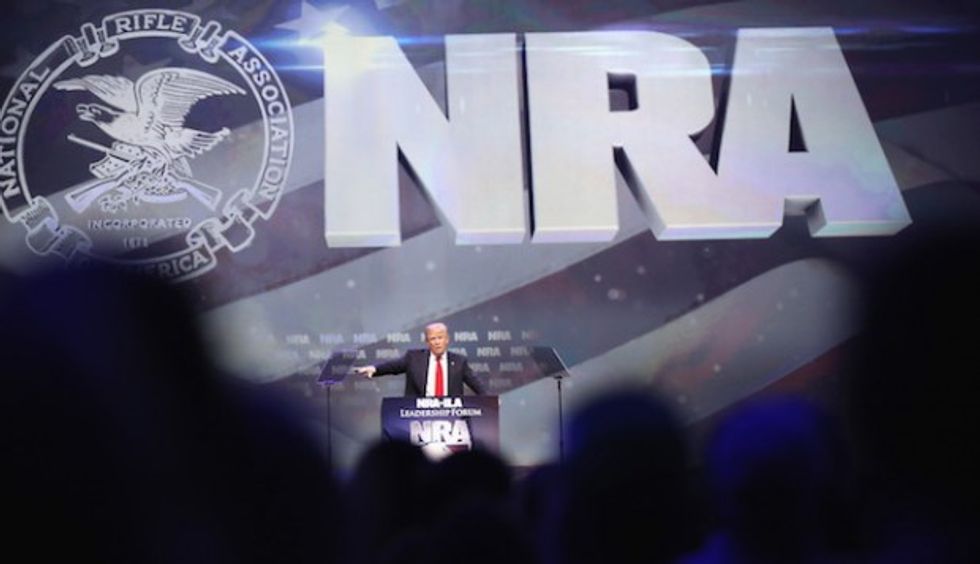 LOUISVILLE, KY - MAY 20: Republican presidential candidate Donald Trump speaks at the National Rifle Association's NRA-ILA Leadership Forum during the NRA Convention at the Kentucky Exposition Center on May 20, 2016 in Louisville, Kentucky. The NRA endorsed Trump at the convention. The convention runs May 22. (Photo by Scott Olson/Getty Images)
The NRA took an official position on guns and terror watch lists in the aftermath of the Orlando terror attack that left 49 people dead. The killer, Omar Mateen, was investigated twice by the FBI for possible ties to terrorism, but neither investigation resulted in charges.
The NRA was also scheduled to meet with presumptive Republican nominee Donald Trump on Wednesday to discuss the issue.
Read the gun rights group's full statement below:
We are happy to meet with Donald Trump. The NRA's position on this issue has not changed. The NRA believes that terrorists should not be allowed to purchase or possess firearms, period. Anyone on a terror watchlist who tries to buy a gun should be thoroughly investigated by the FBI and the sale delayed while the investigation is ongoing. If an investigation uncovers evidence of terrorist activity or involvement, the government should be allowed to immediately go to court, block the sale, and arrest the terrorist. At the same time, due process protections should be put in place that allow law-abiding Americans who are wrongly put on a watchlist to be removed. That has been the position of Sen. John Cornyn (R.-Tex.) and a majority of the U.S. Senate. Sadly, President Obama and his allies would prefer to play politics with this issue.
Democrats, including presumptive Democratic nominee Hillary Clinton, are calling for a complete ban on semi-automatic rifles dubbed "assault weapons."
---