Florida Sen. Marco Rubio, the one-time challenger for the Republican presidential nomination, said Wednesday he is reconsidering his decision to retire from the Senate and could launch a re-election campaign as soon as next week.
The lawmaker's decision comes after a Sunday talk with his friend, Florida Lt. Gov. Carlos Lopez-Cantera (R), who is currently in the running to succeed him in the Senate. The two men had the conversation on the sidelines of the scene of the terror attack in Orlando, the Washington Post reported.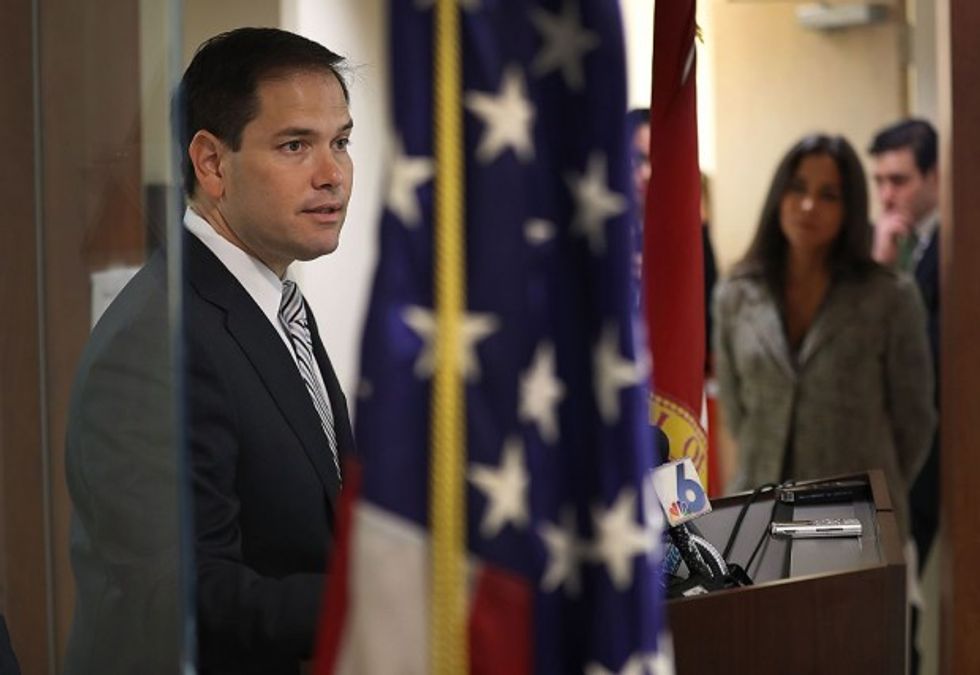 Photo by Joe Raedle/Getty Images
"Obviously, I take very seriously everything that's going on — not just Orlando, but in our country," Rubio said. "I enjoy my service here a lot, so I'll go home later this week, and I'll have some time with my family, and then if there's been a change in our status I'll be sure to let everyone know."
During the conversation, Lopez-Cantera urged Rubio to reconsider his decision not to run and even pledged to bow out of the race if he decided to do so, according to a Politico interview with the lieutenant governor. The primary election is slated for Aug. 30.
"I have asked Sen. Marco Rubio to reconsider his decision and enter the Senate race," Lopez-Cantera wrote in an email sent to supporters obtained by the Post. "The decision is his and his alone to make. … I am still in this race and nothing has changed. However, if Marco decides to enter this race, I will not be filing the paperwork to run for the U.S. Senate."
As he made his way to a closed-door briefing on the Orlando attack in the Capitol Wednesday, Rubio told reporters he is re-thinking his long-held position that he will not re-enter the race for the Senate. He took no questions after making the brief statement.
The Florida politician is up against a filing deadline June 24, when he is scheduled to headline a fundraiser for Lopez-Cantera in a Coral Gables hotel.
Along with Lopez-Cantera, four other prominent state Republicans have launched campaigns to fill Rubio's seat in the Senate. One candidate, Rep. David Jolly (R-Fla.), has openly noted that he will leave the race if Rubio decides to launch a re-election bid and has planned a Friday presser to announce whether or not he will continue with his Senate campaign, run for re-election to the House, or retire from politics all together.
In a statement on Capitol Hill Wednesday, Jolly seemed poised to bow out: "I think [Rubio] decides to get back in," he said. "But it's just a supposition; it's not based on any conversation, any knowledge."
Rep. Ron DeSantis (R-Fla.), another Republican contender, has not addressed the possibility, but two other wealthy political outsiders — Carlos Beruff and Todd Wilcox — said earlier this month they do not plan to back down for Rubio.
Wilcox filed to enter the race formally Wednesday and spokeswoman Erin Isaac said the candidate has no plans to withdraw should Rubio decide to re-enter the race. Chris Hartline, spokesman for Beruff's campaign, said Florida voters "value real world experience more than political experience," confirming that his candidate also plans to continue, regardless of Rubio's decision.
"They're sick of career politicians and power-brokers in Washington who care about one thing: holding on to power," he said. "They don't get to pick our candidates."
Several national Republican leaders have urged Rubio to launch a re-election campaign. Namely, Senate Majority Leader Mitch McConnell (R-Ky.), who has urged the senator to run over fears that none of the current candidates could successfully challenge their Democratic opponent.
However, a recent Public Policy Polling survey shows Rubio's support has greatly dwindled since his failed presidential campaign. According to the poll, only 32 percent of voters approve of the lawmaker's job performance.
The calls for Rubio to run for re-election has frustrated some of the other candidates, who have seen their donor pools dry up as they await Rubio's final decision.
Jolly faulted national Republican leaders and campaign officials for hurting the GOP field, accusing them of having "done nothing to lift a finger in the past 10 months."
He said, "If they are unsuccessful in getting Marco in the race, boy, they have done a lot of damage to the Republican field and, in many ways, have made an in-kind contribution to the Senate campaign of Patrick Murphy," the likely Democratic nominee.
—
Follow the author of this story on Twitter: