The father of a young woman slain in the Paris attacks last November is suing Twitter, Facebook and Google, claiming the companies provided "material support" to the Islamic State.
Reynaldo Gonzalez's daugher, Nohemi, 23, of El Monte, California, was the sole American murdered in the 2015 shootings and suicide bombings that killed 130 people last year. And now Gonzalez is going after those he finds responsible — at least in part — for the growth of the Islamic State.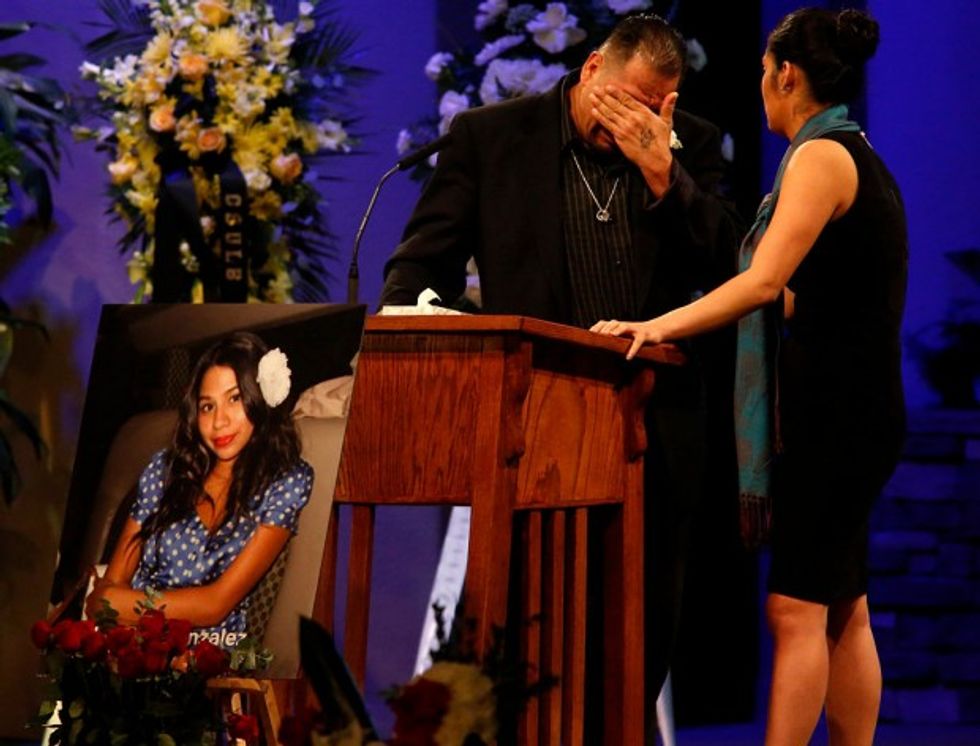 Reynaldo Gonzalez breaks down while remembering his daughter Nohemi Gonzalez, Paris attack victim, at her funeral at the Calvary Chapel on December 4, 2015 in Downey, California. (Photo by Genaro Molina - Pool/Getty Images)
Gonzalez filed the lawsuit against the internet companies Tuesday in the U.S. District Court in the Northern District of California. The suit claims the organizations "knowingly permitted" the Islamic State to recruit members, raise funds and spread "extremist propaganda" via their respective mediums.
"Without defendants Twitter, Facebook and Google [YouTube], the explosive growth of ISIS over the last few years into the most-feared terrorist group in the world would not have been possible," the lawsuit read, according to CBS News.
"This material support has been instrumental to the rise of ISIS and has enabled it to carry out numerous terrorist attacks," it continued, "including the Nov. 13, 2015, attacks in Paris where more than 125 were killed, including Nohemi Gonzalez."
Gonzalez's young daughter was a senior at California State University Long Beach, where she was studying industrial design. She and 17 other students were in Paris as part of a semester-abroad program. Her untimely death came when she was eating with friends at La Belle Equipe, a popular Paris eatery, when the radicalized Muslims began their raid.
In response to the lawsuit, both Facebook and Twitter said Gonzalez's claims are without merit and all three California-based companies cited their respective policies against extremist material. Twitter noted that is has "teams around the world actively investigating reports of rule violations, identifying violating conduct, and working with law enforcement entities when appropriate."
Facebook said, in part, if the organization notices "evidence of a threat of imminent harm or a terror attack, we reach out to law enforcement."
Google, however, declined to offer comment, citing the fact that litigation is ongoing. It did note, though, that it has "clear policies prohibiting terrorist recruitment and content intending to incite violence and quickly remove videos violating these policies when flagged by our users."
Under current U.S. law, internet companies are commonly exempt from liability for the material users post on their platforms. Section 230 of the 1996 Communications Decency Act provides a "safe harbor" for organizations like Twitter and Facebook. It states, "No provider or user of an interactive computer service shall be treated as the publisher or speaker of any information provided by another information content provider."
But that protection may not safeguard the companies from Gonzalez's lawsuit. Ari Kresch, an attorney with 1-800-LAW-FIRM who is part of the Gonzalez legal apparatus, said the lawsuit targets the social media networks not for what they published but for what they enabled.
"This complaint is not about what ISIS's messages say," he wrote in an email to CBS. "It is about Google, Twitter, and Facebook allowing ISIS to use their social media networks for recruitment and operations."
Additionally, the Gonzalez lawsuit also claims YouTube, which is owned by Google, shared revenue with the Islamic State from the ads that ran with the terror group's videos.
And Benjamin Wittes, a senior fellow at the Brookings Institution, agrees that the legal "safe harbor" might not be enough to put the kibosh on the case against Twitter, Facebook and Google. However, he remained hopeful for Twitter, noting that the company may prevail because it will be difficult to directly link its alleged support of extremists and the actual attacks.
–
Follow the author of this story on Twitter: