Philadelphia became the first major American city with a soda tax Thursday, despite much criticism for the resolution and a multi-million campaign by the beverage industry to block it.
In a final 13-4 vote, the Philadelphia City Council passed a 1.5-cents-per-ounce tax on all sugar-added and artificially-sweetened soft drinks, according to WPVI-TV. The tax would add 18 cents to the cost of a can of soda, $1.08 to the cost of a six-pack and $1.02 to the cost a two-liter bottle.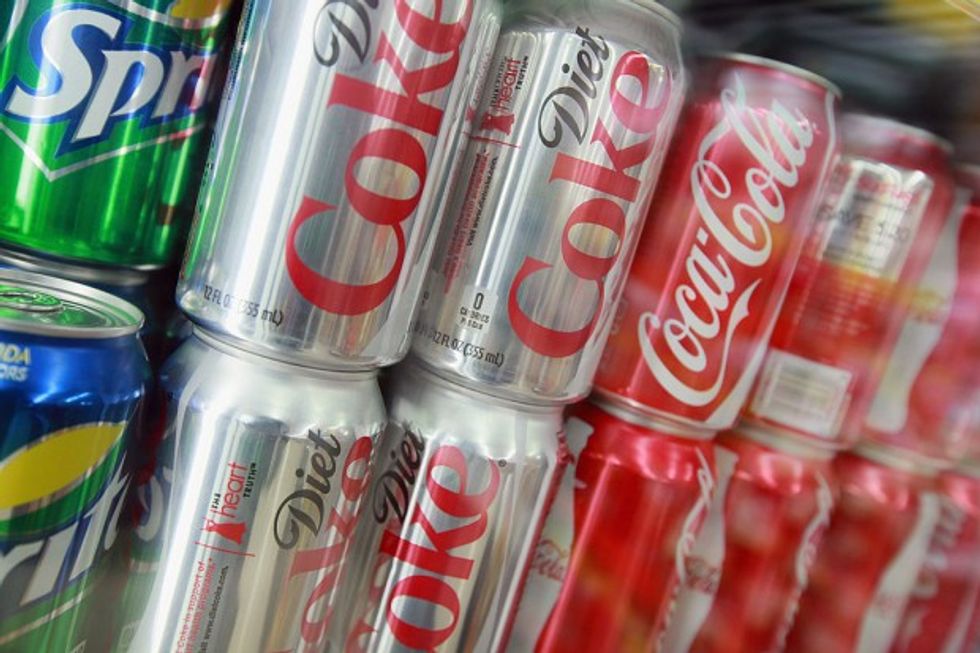 Photo by Scott Olson/Getty Images
Only Berkeley, California, has a similar law. Soda tax proposals have failed in 30 cities and states across the country in recent years. Chief among the reasons the bills are often shot down is the criticism that such laws often disproportionately impact lower-income people, who are more likely to consume surgary beverages.
However, Democratic Mayor Jim Kenney sold the idea not as a pitch to make Philadelphians healthier, but as a way to increase revenue for pre-kindergarten, community schools and recreational centers. The new tax is slated to bring in $90 million.
"Thanks to the tireless advocacy of educators, parents, rec center volunteers and so many others, Philadelphia made a historic investment in our neighborhoods and in our education system today," Kenney said following the vote.
But that does not mean everyone's on-board with the new tariff.
"If this tax is passed, Philadelphia would create the worst black market for non-alcoholic beverages since prohibition, which was back in the 1920s and 30s. Let's not go back in history," Coca-Cola employee Chris Hunter said.
In addition, the soda industry spent millions of dollars in advertising against the proposed tax, arguing consumers would be most impacted by the toll. The American Beverage Association described the soft drink tax as "discriminatory and highly unpopular."
"The tax passed today is a regressive tax that unfairly singles out beverages, including low- and no-calorie choices," the ABA declared in a statement.
Soda bottling magnate Harold Honickman vowed to fight the tax in court, arguing that levying such a fee would cause sales to dwindle and jobs to be lost. He said he could file a lawsuit as soon as this weekend.
Teamsters local 830 secretary-treasurer Daniel Grace agreed a legal challenge is looming.
There were some, though, who praised the new tax. The plan attracted the positive attention — and money — of former New York City Mayor Michael Bloomberg, who failed to pass such a fee when he was mayor, and Texas billionaires Laura and John Arnold, advocates for less consumption of sugary drinks.
The board of the American Heart Association of Southeastern Pennsylvania also praised the act.
"As Philadelphia has done time and again, you are acting boldly to deal with very real concerns and needs of Philadelphians and our country as a whole," board president Dr. Ken Margulies said. "Thank you on behalf of the American Heart Association, the Philadelphia medical community, and the broader medical establishment."
The tax won't start being collected until Jan. 1, 2017, but it will enter the fiscal budget July 1. The fee will be levied on distributors and, should companies pass the tax down, a six-pack of 16-ounce bottles, for example, would increase in cost by $1.44.
Some of the revenue will also go to pay city employees' benefits, pet projects of council members and to build up municipal budget reserves.
—
Follow the author of this story on Twitter: