The Southern Baptist Convention passed a resolution this week during its annual meeting in St. Louis, Missouri, calling on affiliated churches to welcome in refugees — a policy that counters Republican presidential candidate Donald Trump's calls to restrict Muslim immigration.
The approved measure, titled, "Resolution 12: On Refugee Ministry," acknowledged that the world faces its "largest refugee crisis since World War II" and that "war, violence, genocide, religious persecution, and other forms of oppression have contributed to massive people movements across the globe, as millions flee for their lives."
Citing the denomination's past role in helping refugees, the text invokes biblical calls for Christians to help the "sojourner," calls on churches to have an active role in welcoming refugees into the fold, and also encourages viable security measures to ensure safety.
Read the resolution in its entirety below: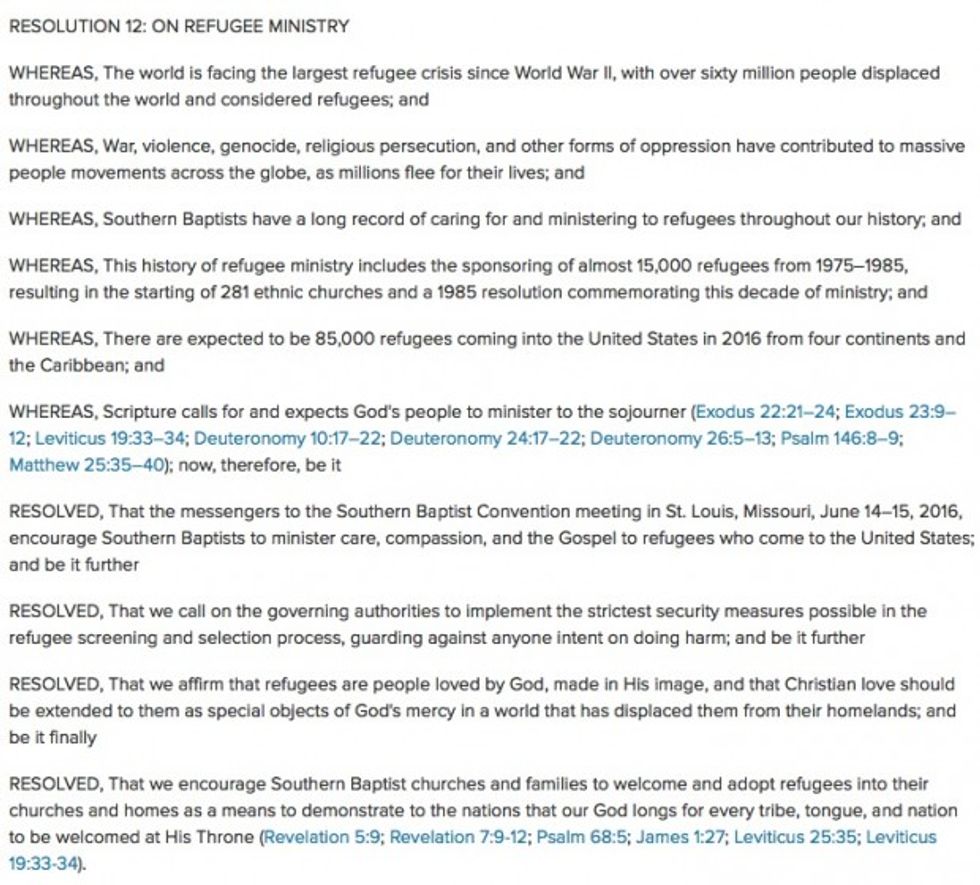 A screen shot of the resolution
"The messengers to the Southern Baptist Convention meeting ... encourage Southern Baptists to minister care, compassion, and the Gospel to refugees who come to the United States," the resolution reads. "We call on the governing authorities to implement the strictest security measures possible in the refugee screening and selection process, guarding against anyone intent on doing harm."
The text continues, "We affirm that refugees are people loved by God, made in His image, and that Christian love should be extended to them as special objects of God's mercy in a world that has displaced them from their homelands."
This call from the Southern Baptist Convention, which is the nation's largest protestant denomination, comes after numerous governors moved earlier this year to restrict the flow of refugees into the United States, with many citing security concerns.
The move also seems to push back against Trump's stance on the refugee matter, with the businessman and Republican candidate calling Middle East refugees fleeing the Islamic State a "Trojan horse" back in November.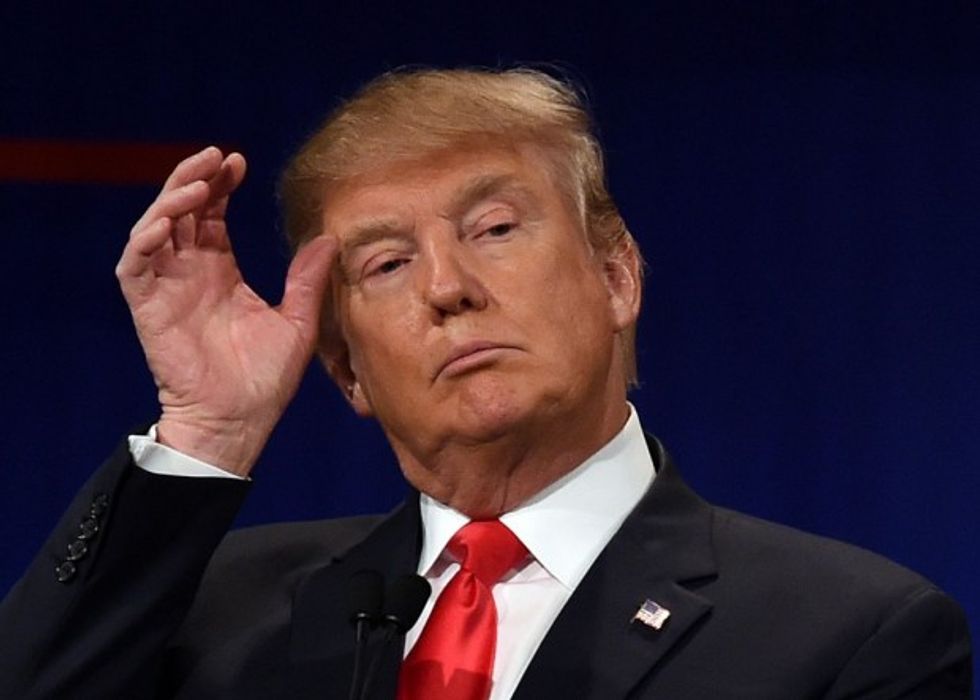 Republican presidential candidate Donald Trump (TIMOTHY A. CLARY/AFP/Getty Images)
"We have no idea who these people are, we are the worst when it comes to paperwork," Trump said during a CNBC interview at the time. "This could be one of the great Trojan horses."
But while Trump continues to warn of the possible dangers, President Barack Obama has set a goal to take in 10,000 Syrian refugees by the end of 2016, with the State Department reporting that around 2,800 have already come to America, according to NPR.
(H/T: Christian Post)
--
Follow the author of this story on Twitter and Facebook and check out his new book "The Armageddon Code: One Journalist's Quest for End-Times Answers":