Fox News host Megyn Kelly skewered House Democrats Thursday night for their 'No Bill, No Break' sit-in, which lasted 25 hours, until the lawmakers went on break without taking any action on terrorism in the wake of the deadly Orlando attack.
"What we saw over the last 24 hours was like something out of Woodstock," Kelly quipped. "Nearly 170 Democratic lawmakers eating doughnuts, staging a sit-in and singing songs, they said, to get a vote on gun control."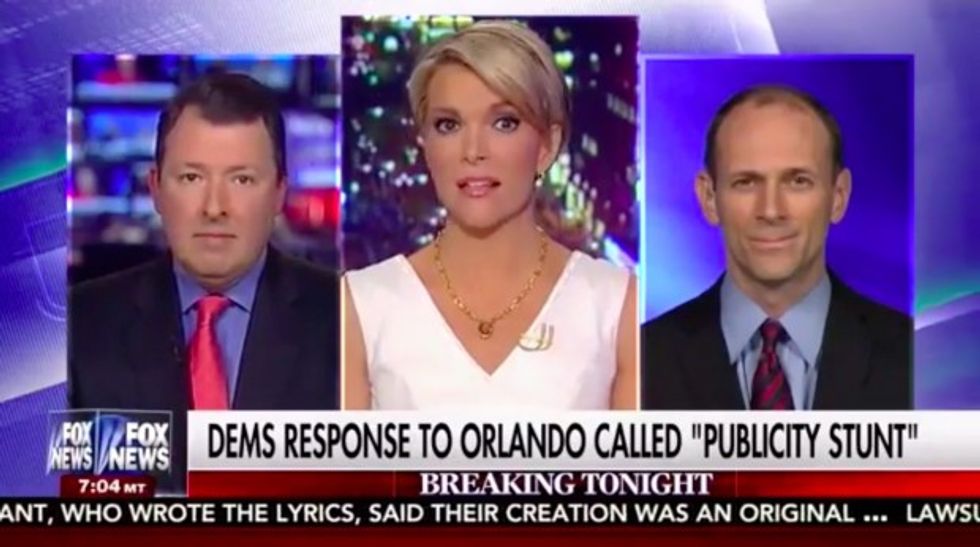 Image source: Fox News screen grab
Kelly also noted that Orlando shooting survivor Patience Carter was supposed to share her testimony before Congress, but the Democrats' demonstration caused that event to be postponed.
The Fox News anchor then began blasting Democrats for pushing for gun control as a way to address terrorism.
"Taking away the weapon from these guys is not going to solve the problem, because there are lots of weapons, and we've seen them used," Kelly said.
Kelly also hit the Democrats for seemingly not remaining truly committed to getting a vote on gun control measures.
"Even if you accept that we need gun control … all of the attention was on that and then they left without reforming a single thing because hey, July 4th is coming up," she remarked.
According to Kelly, the Democrats opted to forfeit any progress on gun control so they could "go enjoy the fireworks."
—
Follow the author of this story on Twitter: