Presumptive Democratic presidential nominee Hillary Clinton's historical record of her daily activities while she was secretary of state is missing "scores of names and events," according to a review by the Associated Press.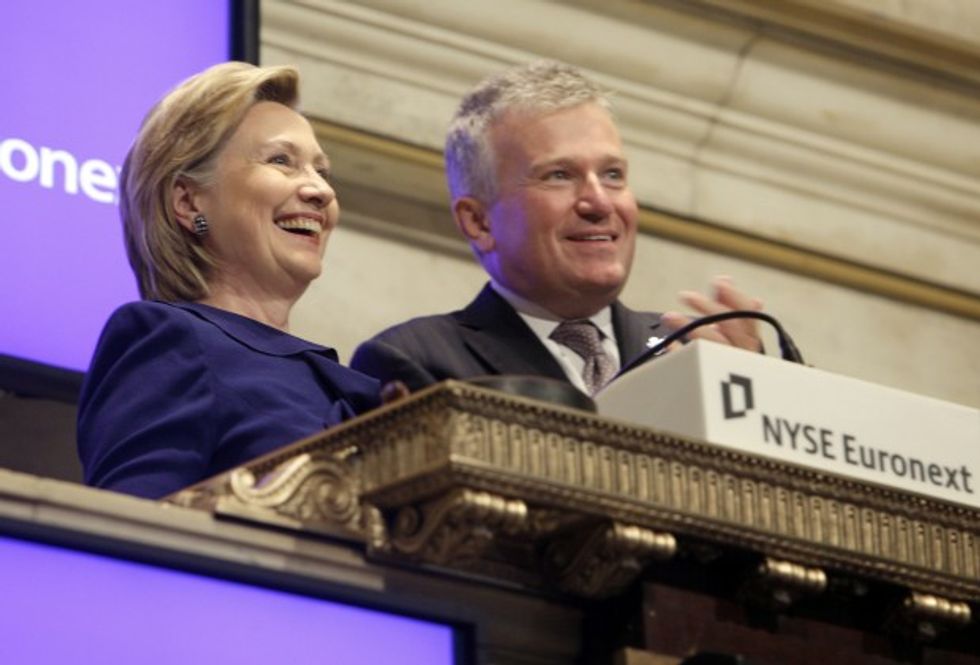 Then-Secretary of State Hillary Rodham Clinton rings the New York Stock opening bell Sept. 21, 2009, just minutes after she attended a private breakfast with influential Wall Street and business leaders. But the identities of her breakfast guests would be left off of her official State Department calendar, omissions that are among scores of names and events missing from Clinton's historical record of her daily activities as secretary of state, an Associated Press review found. (AP Photo/Richard Drew, File)
Comparing Clinton's official calendar with separate planning schedules given to Clinton by her aides each day, the AP found that at least 114 "outsiders" met with Clinton but were not documented on her calendar. They also identified "at least 75 meetings with longtime political donors and loyalists, Clinton Foundation contributors and corporate and other outside interests" missing from her calendar, as well as the names of and meetings with "influential Wall Street and business leaders."
The AP has been seeking Clinton's calendar and schedules from the State Department since August 2013. In March 2015, after "nearly two years of delay," the AP sued the agency in order to obtain the records. The outlet reported that it is continuing to press for "all of Clinton's planning material" and that the government has released "about one-third of those planners" so far.
The discrepancies between Clinton's schedules come as the former secretary of state faces scrutiny for her use of a private email server to conduct official business during her time at the State Department.
Nick Merrill, spokesman for the Clinton campaign, told the AP that the discrepancies "simply reflect a more detailed version in one version as compared to another, all maintained by her staff."
Merrill said that Clinton "has always made an effort to be transparent since entering public life, whether it be the release of over 30 years of tax returns, years of financial disclosure forms, or asking that 55,000 pages of work emails from her time of secretary of state be turned over to the public."
—
Follow the author of this story on Twitter and Facebook: