Presumptive Republican presidential nominee Donald Trump revealed Thursday that he is considering selecting Sen. Tom Cotton (R-Ark.) as his running mate
During an interview with conservative radio talker Hugh Hewitt, the host told Trump that he thinks the Manhattan billionaire should select either Cotton or Gov. Chris Christie (R-N.J.) as his running mate.
Trump replied, "These are two names that I have high on the list for something at least, that I can tell you."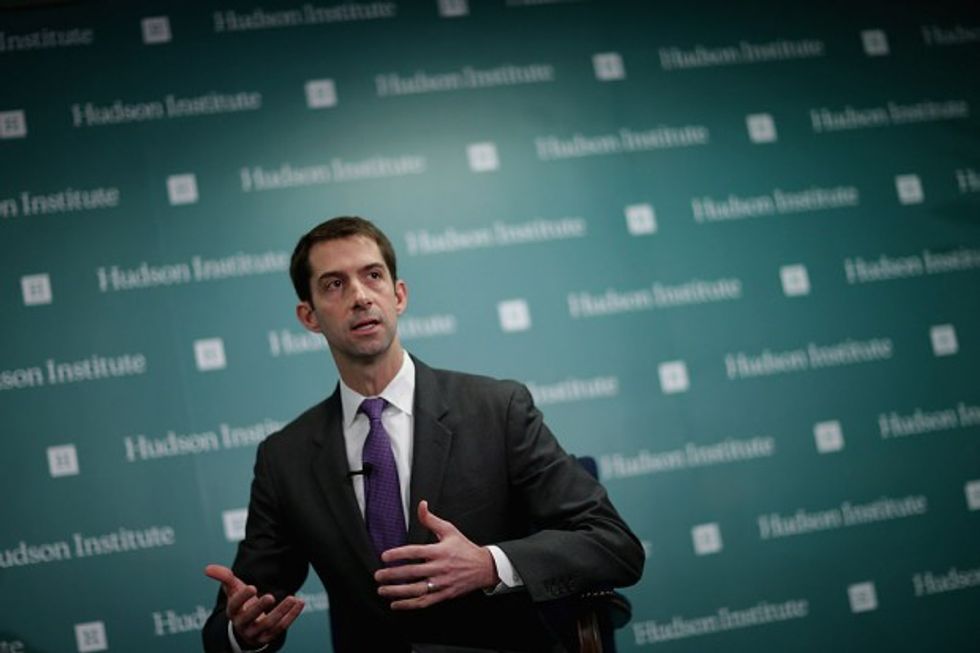 Sen. Tom Cotton (R-Ark.) participates in a conversation about American foreign strategy and statesmanship at the Hudson Institute in Washington, D.C. (Chip Somodevilla/Getty Images)
"I can't give you any clues or anything right now, because I do have a lot of respect for those two guys," Trump said. "But I have a lot of respect for others, also. Chris came out very early and endorsed me. I've gotten very good, you know, very good statements from Sen. Cotton, who I know, whose parents I know and met. I think that he is a very talented guy. He's also very popular. He's a very popular person."
However, Cotton told the Independent Journal Review on Wednesday, "I have no reason to think that Donald Trump is gonna ask me to do that, and I'm not being vetted."
Michael Caputo, a former Trump advisor, told Fox News Radio host Brian Kilmeade that discussions about Trump's running mate were "above my pay grade," but he thinks that Trump will make an "unorthodox" selection, such as Cotton or Rep. Mia Love (R-Utah).
Caputo called Cotton "a heck of a guy" and Love "somebody who is an African-American leader with really bright ideas and an ability to communicate."
Trump has indicated that he will unveil his choice for his running mate at the Republican National Convention in July.
(H/T: KLRT‑TV)
—
Follow the author of this story on Twitter and Facebook: