LOS ANGELES (TheBlaze/AP) — Kanye West released the video for his single titled, "Famous." The controversial artist made the big reveal Friday night at a promotional event in the Los Angeles Forum.
The provocative clip features what appears to be a naked West with images of 11 other famous people, some of whom he has had good and bad relationships with, Vanity Fair magazine reported (warning: graphic).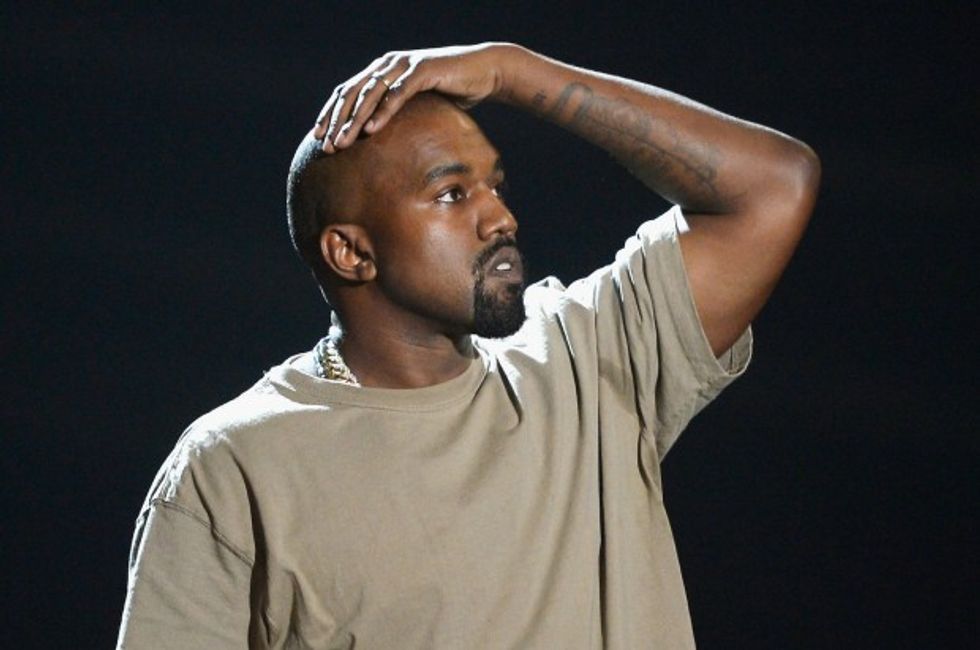 Photo by Kevork Djansezian/Getty Images

"What we see ... is a moody, quasi-religious tableau of naked, vulnerable, strangely peaceful bodies at rest," Vanity Fair's Dirk Standen writes. "Under the sheets, West seems to be saying, celebrities are just like us."
The celebrities, who appear to be naked in a huge bed with West, are his wife, Kim Kardashian West; former President George W. Bush; presumptive Republican presidential nominee Donald Trump; Vogue editor Anna Wintour; singers Rihanna, Chris Brown and Taylor Swift; singer, producer and West's wife's ex-boyfriend, Ray J; former girlfriend Amber Rose; transgender father-in-law Caitlyn Jenner; and comedian Bill Cosby.
West included an image of Bush, whom he famously criticized on national TV right after Hurricane Katrina in 2005, claiming that the former president doesn't care about black people.
"Maybe in some alternative universe me and George Bush could have been friends. I could have been his O.J. Simpson black friend on the golf course," West told Vanity Fair in a phone interview.
As for including Cosby, who West once tweeted was innocent of sexual abuse allegations, the rapper said: "It's not in support or anti any of (the people in the video.) It's a comment on fame."
And of course, there is Taylor Swift, West's long-time celebrity foe who gets her own derogatory shout-out in "Famous." The song contains a crude lyric about Swift in addition to the claim that West "made that b***h famous."
Like all Kanye creations, the latest video is sure to engender public praise, condemnation and (predominantly) confusion.
someone help me understand kanyes "Famous" music video.

— Drew Etling (@drew_etling) June 25, 2016
Kanye's Famous Music video



— OpTic Pamaj (@Pamaj) June 25, 2016
My face the first time watching the Famous music video

— TBE (@jayyy_butler) June 25, 2016
So confused by the Famous music video lmaoo

— Viviana Frugone (@vivianafrugone) June 25, 2016
And as always, Kanye does not appear to care what others think of his work.
Can somebody sue me already #I'llwait

— KANYE WEST (@kanyewest) June 25, 2016