Charles Krauthammer joined a panel of guests Tuesday night on Fox News' "Special Report With Bret Baier" to discuss the newly released House report on the 2012 Benghazi attack and labeled the U.S. government's failure to act in time to save the lives of four Americans a "debacle of the first order."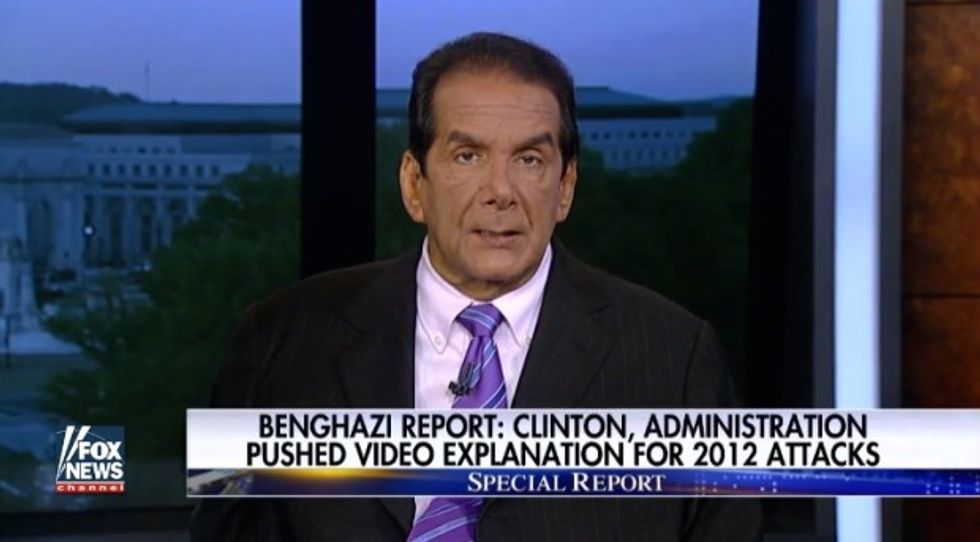 Image source: Fox News
Krauthammer said that former Secretary of State Hillary Clinton had a "relatively peripheral role" in the decisions leading up to the attack and noted that, if it weren't an election year, the people would be focusing on the real culprits. He claimed that instead of vilifying Clinton, the media and the American people should set their sights on President Barack Obama, former Defense Secretary Leon Panetta and "the chain of command and why nothing happened."
"And it's not that there was a conspiracy. It's not that there was some malevolence on the part of Obama and the others," Krauthammer explained. The major problem, he claimed, was that the Obama Administration displayed an "unbelievable air of indifference" to the attack.
"The president issues a command to go and do something, and then where is he?" the columnist asked.
He then noted the sharp contrast between the inaction displayed in Benghazi and the response to the raid on Osama bin Laden's Pakistani compound.
"Why weren't those people in the Situation Room in the middle of an attack on our embassy? The ambassador is missing, the fight is going on and everybody important is gone."