© 2023 Blaze Media LLC. All rights reserved.
Duck Dynasty' Star Phil Robertson Makes Argument for the Existence of Jesus in World Conservative Summit Speech
"Evidently something rather large went down."
"Duck Dynasty" patriarch Phil Robertson delivered one of the most memorable talks at the star-studded Western Conservative Summit, an event that featured big political names like Donald Trump and Carly Fiorina.
Speaking at the annual gathering of the country's top conservatives, the reality star managed to work in a succinct argument for proof of the existence of Jesus.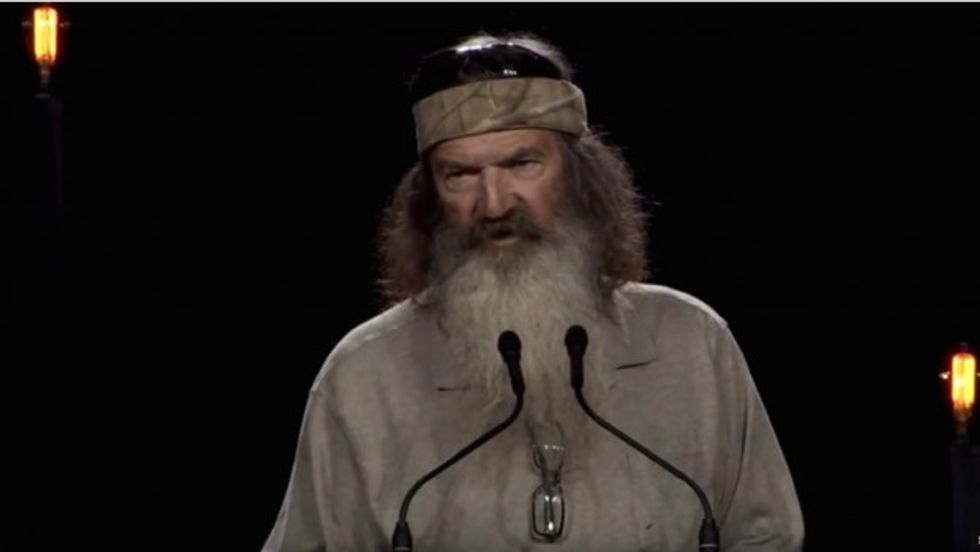 Image source: Daily Motion
"If your calendar is dated of all the human beings who have ever walked on the Earth, and your calendar is dedicated and predicated to just one of them, evidently something rather large went down," he told the Colorado audience.
The New York Daily News and others were quick to point out that the Western calendar is also rooted in Roman paganism, noting that the months we use correspond to names of gods, such as Janus and Mars. Robertson, 70, made no mention of this.
The reality star has made a name for himself in the world of conservative politics through his willingness to offer frank commentary on topics of contention, such as gay rights and religious freedom.
In his speech, Robertson briefly touched on the topic of gay marriage and the Supreme Court's role in permitting something he deemed contrary to nature.
"When you allow men to determine what's right and what's wrong, you get decisions like the five judges who said, 'I may not know we have 7,000 years of history of men marrying women — a male and a female. "For that reason, they'll leave their father and mother and cleave to one another and become one flesh." I know it's been that way for 7,000 years, but we know best for what's everybody,'" he said.
The "Duck Dynasty" star concluded his talk by addressing the issue of transgender bathroom laws, a topic which he has vocally opposed in the past.
"Now there's grown men barging in on you ladies when you're putting your Maybelline on," he said, referring to some states' anti-discrimination laws that allow individuals to use public facilities that correspond to their gender identity.
"Here's a newsflash, you see this," he said, tugging on his beard. "This be male. All you ladies, you will never ever catch this cat coming up in your bathroom," he asserted, which earned him approval and applause from the audience.
Watch:
Want to leave a tip?
We answer to you. Help keep our content free of advertisers and big tech censorship by leaving a tip today.
more stories
Sign up for the Blaze newsletter
By signing up, you agree to our
Privacy Policy
and
Terms of Use
, and agree to receive content that may sometimes include advertisements. You may opt out at any time.