An unidentified family in the South recently found a letter handwritten by Thomas Jefferson among heirlooms in their attic, according to Fox News.
The letter was written by Jefferson at his Monticello estate to William Crawford, the U.S. ambassador to France, on Valentine's Day, 1815. In the letter, the third president addresses the War of 1812, specifically the burning of Washington by the British and the Battle of New Orleans.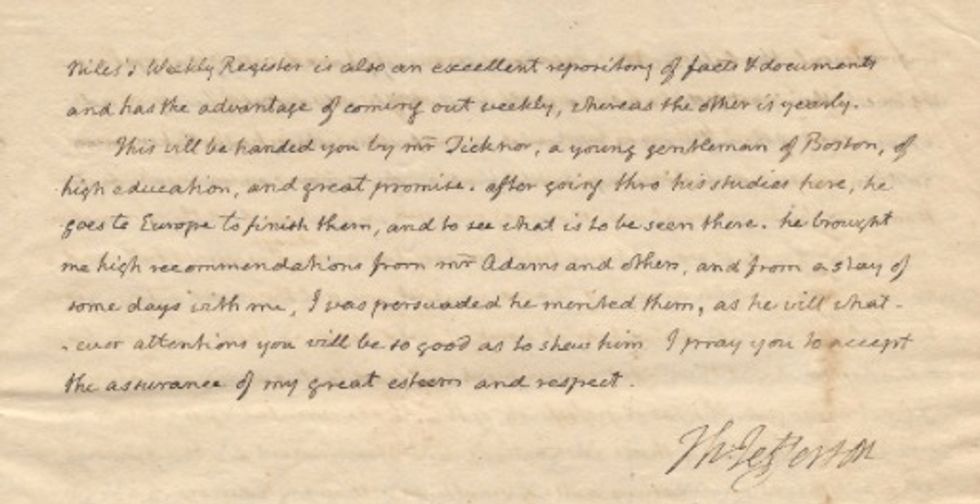 A family recently discovered this letter from Thomas Jefferson in their attic. (The Raab Collection)
"As in the Revolutionary War, [the British] conquests were never more than of the spot on which their army stood, never extended beyond the range of their cannon shot," Jefferson wrote. "We owe to their past follies and wrong the incalculable advantage of being made independent of them."
"We must sacrifice the last dollar and drop of blood to rid us of that badge of slavery, and it must rest with England alone to say whether it is worth eternal war, for eternal it must be if she holds to the wrong," Jefferson added.
The Raab Collection, a Philadelphia dealer of historical documents, autographs and manuscripts, is selling the letter for the family. The letter has a price tag of $325,000.
"This kind of letter is only seen up for sale once a decade, if not once a generation," Nathan Raab told Fox News. "You just never see this for purchase by the public. These types of letters that are owned by direct descendants are usually donated to private collections."
The letter was put up for sale on Independence Day, the 190th anniversary of Jefferson's death on July 4, 1826.
—
Follow the author of this story on Twitter and Facebook: