© 2023 Blaze Media LLC. All rights reserved.
"Blacklisted": See more from TheBlaze's exclusive interview with the family of Dallas shooter Micah Johnson.
A new report suggests Dallas gunman Micah Johnson tried to join several black power groups but was deemed "unfit for recruitment" after it was discovered he was discharged from the Army over allegations of sexual harassment.
Pictured is Dallas shooter Micah Johnson (WREG-TV Screengrab)
Johnson reportedly attempted to link up with the New Black Panther Party and the Black Riders Liberation Party only to find himself ostracized.
Malik Shabazz, former chair of the New Black Panther Party, told the Daily Beast that Johnson was denied entry into the group and "blacklisted" after a so-called background check.
Johnson was discharged from the U.S. Army Reserves in 2015 after being accused of stealing a woman's underwear. While "other than honorable discharge" was considered, Johnson ultimately received an honorable discharge.
The parents of Dallas gunman Micah Johnson responded to allegations surrounding their son's discharge from the U.S. Army in an exclusive interview with TheBlaze, claiming media reports are lacking context.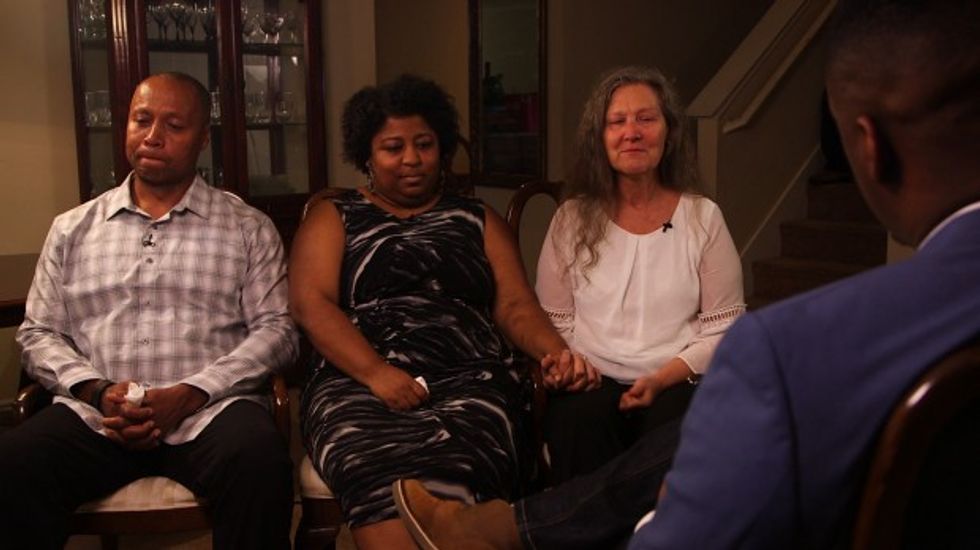 The family of Dallas shooter Micah Xavier Johnson speak to TheBlaze in an exclusive interview. Pictured from left to right: James Johnson, Delphine Johnson, Donna Johnson. (Photo credit: TheBlaze)
The gunman's mother, Delphine, claimed that the woman who accused Johnson had a personal history with him and the family.
"The female that accused him is one that has been to my house numerous of times," she said. "Yeah, they slept in the same bed."
The mother claimed the woman who accused her son of sexual harassment was doing "something she wasn't supposed to be doing" with a higher-ranking military official and was confronted by Johnson. The victim claimed harassment after she was called out by Johnson, she claimed. The military attorney who represented Johnson, Bradford Glendening, told the Associated Press that the Army initially recommended "other than honorable discharge" and took drastic action rather than recommending counseling first. The victim in the case was also granted a protective order.
"In his case, it was apparently so egregious, it was not just the act itself. ... I'm sure that this guy was the black sheep of his unit," Glendening told the AP.
Johnson's family spoke out for the first time in a sit-down interview with TheBlaze's Lawrence Jones on Sunday, revealing new insights about the man who murdered five police officers and wounded seven others in Dallas.
They said Johnson came home a different man after he was discharged from the military. The mother said her son returned home with a sense of great disappointment in the U.S. government.
The gunman's stepmother, who is white, said Johnson didn't show an outward hatred toward white people, but expressed a strong distrust of police.
James Johnson, the shooter's father, told TheBlaze his son started studying his heritage and black history after his discharge from the military. His Facebook page, now deleted, revealed his strong interest in black empowerment groups and featured photos of the "black power" fist.
But it was the recent police-involved shootings of black men in Minnesota and Louisiana appeared to make Johnson snap. On Thursday, he carried out the most deadly attack on law enforcement since 9/11. Dallas Police Chief David Brown said the shooter said he wanted to kill white officers as retribution for the police shootings.
Police detonated a bomb delivered by a robot to kill Johnson following a lengthy standoff in a parking garage.
---
Want to leave a tip?
We answer to you. Help keep our content free of advertisers and big tech censorship by leaving a tip today.
more stories
Sign up for the Blaze newsletter
By signing up, you agree to our
Privacy Policy
and
Terms of Use
, and agree to receive content that may sometimes include advertisements. You may opt out at any time.