Supreme Court Justice Ruth Bader Ginsburg told the New York Times that she "can't imagine" a Donald Trump presidency.
"I can't imagine what this place would be — I can't imagine what the country would be — with Donald Trump as our president," she said in an interview with the Times published Sunday. "For the country, it could be four years. For the court, it could be — I don't even want to contemplate that," adding that her late husband would have said of the Trump campaign, "Now it's time for us to move to New Zealand."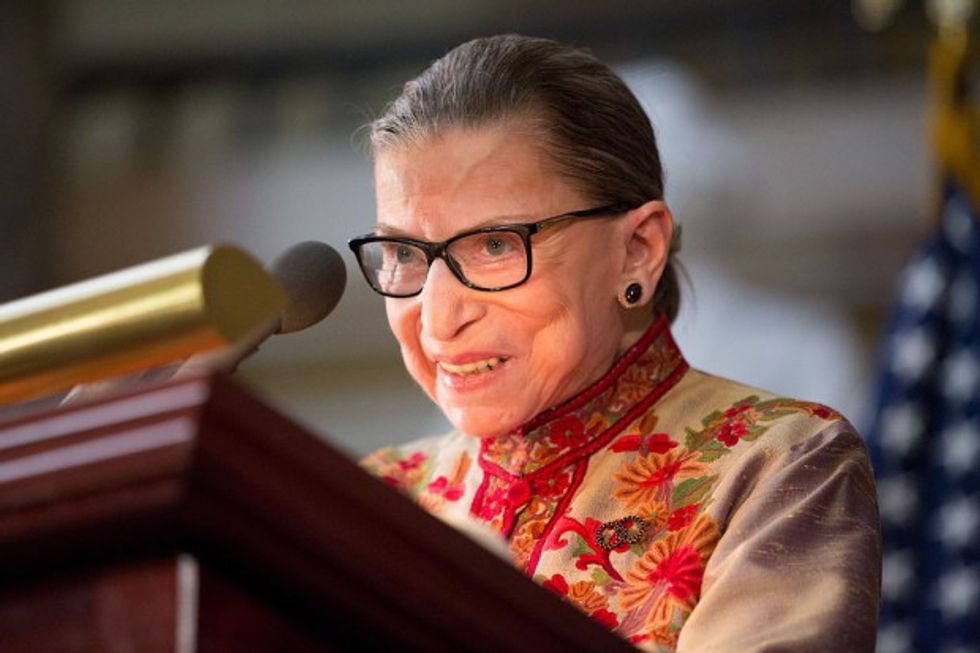 U.S. Supreme Court Justice Ruth Bader Ginsburg speaks at an annual Women's History Month reception in the U.S. Capitol. (Allison Shelley/Getty Images)
Discussing the high court's recent ruling in Whole Woman's Health v. Hellerstedt, Ginsburg called it a "triumph."
The court struck down a Texas law requiring doctors performing abortions to have admitting privileges at a hospital within 30 miles of the facility. Proponents of the law argued that the regulations were in the interest of the health and safety of women and similar to regulations on comparable ambulatory surgical centers; opponents argued that the restrictions placed an undue burden on women seeking abortions. Ginsburg filed her own concurring opinion on the ruling.
"I wanted to highlight the point that it was perverse to portray this as protecting women's health," she said. "Desperate women then would be driven to unsafe abortions."
She argued that the decision itself transcends the particular Texas law: "It says: 'No laws that are meant to deny a woman her right to choose.'"
In the interview, Ginsburg also became the first justice to publicly comment on the Senate Republicans' refusal to hold confirmation hearings on President Barack Obama's Supreme Court nominee, Judge Merrick Garland. Republicans have argued that the next president should appoint a replacement for the late Justice Antonin Scalia.
"I think he is about as well qualified as any nominee to this court," she said of Garland. "Super bright and very nice, very easy to deal with. And super prepared. He would be a great colleague."
"That's their job," she added of the Senate. "There's nothing in the Constitution that says the president stops being president in his last year."
Ginsburg, 83, said she would not retire as long as she can do her job "full steam."
—
Follow the author of this story on Twitter and Facebook: