U.S. Rep. Ted Poe (R-Texas) announced Wednesday that he's been diagnosed with leukemia.
"During the Congressional recess I will be spending time in Texas and focusing on my health. I have been diagnosed with leukemia," Poe said in a statement. "In the interim, my staff will be available as usual to assist with any and all casework or federal matters you may have."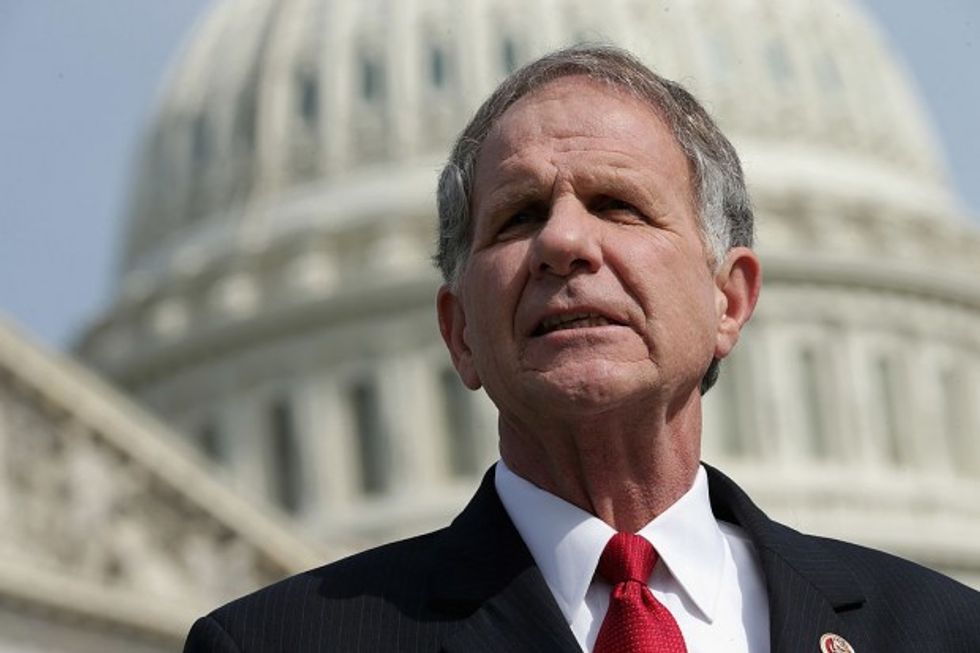 Rep. Ted Poe (R-Texas) talks about the anti-human trafficking legislation his is sponsoring outside the U.S. Capitol May 20, 2014 in Washington, DC. (Chip Somodevilla/Getty Images)
Poe added that he is "fortunate enough to be treated by the finest physicians in the world right here in Houston at the M.D. Anderson Cancer Center."
"It is my intention to beat cancer and have a full recovery and continue to represent the people of Texas," he said. "Thank you in advance for your thoughts and your prayers. The Good Lord will fix this, I believe. And that's just the way it is."
Several of Poe's colleagues in the House and other Texas lawmakers took to Twitter to wish him well.
I've always known @JudgeTedPoe as a fighter. I know he will beat this.

— Kevin McCarthy (@GOPLeader) July 13, 2016
Sending encouragement and prayers to my friend and colleague, @JudgeTedPoe. https://t.co/DqGKK1DwjR

— Joaquin Castro (@JoaquinCastrotx) July 13, 2016
.@JudgeTedPoe has been a dear friend and was one of the first to endorse me when I first ran for Congress. Praying for your full recovery.

— Rep. Jeff Duncan (@RepJeffDuncan) July 13, 2016
Dave and I are praying for you and your family, @JudgeTedPoe. https://t.co/tNfOgYnvLO

— Diane Black (@RepDianeBlack) July 13, 2016
My prayers are with my friend @JudgeTedPoe and his family as he fights to beat cancer. https://t.co/0huTkkGDyM pic.twitter.com/TX9icw6qBF

— Janice Hahn (@Rep_JaniceHahn) July 13, 2016
All of us are pulling and praying for you @JudgeTedPoe. You can beat this. https://t.co/PJIE7ggZOf

— Paul Ryan (@SpeakerRyan) July 13, 2016
You'll be in all our prayers @JudgeTedPoe. You can and will beat this. https://t.co/tk8k4d2bhz

— Ted Cruz (@tedcruz) July 13, 2016
Thoughts & prayers for @JudgeTedPoe. Texans are resilient by nature, & I have no doubt you will overcome the challenge in front of you.

— Gov. Greg Abbott (@GovAbbott) July 13, 2016
—
Follow the author of this story on Twitter and Facebook: