Two former Marines were out hunting Pokemon using the wildly popular Pokemon Go app when they spotted something they didn't expect.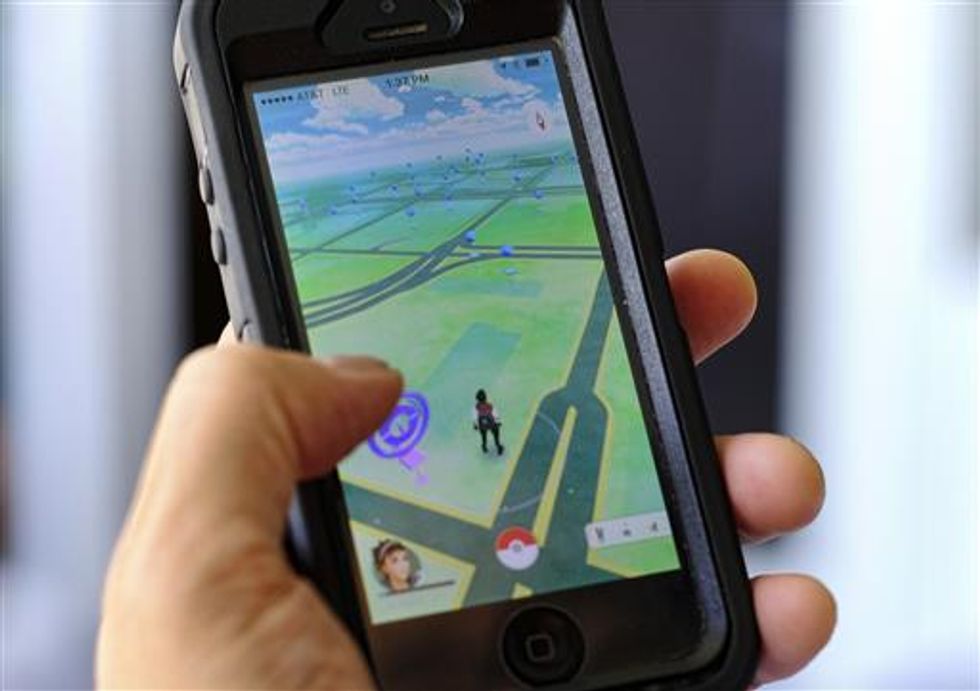 Pokemon Go is displayed on a cell phone in Los Angeles on Friday, July 8, 2016. Just days after being made available in the U.S., the mobile game Pokemon Go has jumped to become the top-grossing app in the App Store. And players have reported wiping out in a variety of ways as they wander the real world, eyes glued to their smartphone screens, in search of digital monsters. (AP Photo/Richard Vogel)
Seth Ortega and Javier Soch were in Fullerton, California, on Tuesday when Soch's screen froze, prompting him to look up. That's when he saw a woman and her two children in a nearby park running away from a man.
"We go to approach the guy to let him know, 'Hey, you shouldn't be here. You're bothering the people trying to enjoy the park,'" Ortega said, according to the Orange County Register.
But the man didn't listen. He instead stayed at the park, where Ortega said the man touched a child inappropriately.
Ortega and another witness then stopped the man and waited with him until police arrived.
Officers arrested 39-year-old Jacob Kells for alleged child annoyance but later discovered Kells also was wanted in Monterey County, California, on charges of attempted murder, assault with a deadly weapon and assaulting a peace officer.
"When our Pokemon Go adventure in DTF turns into stopping a child molester. True freaking story," Ortega posted, along with an photo of the arrest.
Soch reflected on what happened during an interview with the Los Angeles Times, saying "If I hadn't looked over to my left and seen this guy who looks out of place, I could have missed it."
"The best thing I can say: Remind yourself that you are not in the phone playing the game," Soch added. "Look around and be more aware."
The new Pokemon GO app requires players to walk around their communities, using their cellphone cameras to catch Pokemon. The game has resulted in oblivious players being led to armed robbers, dead bodies and even sex shops.
(H/T: Huffington Post)
—
Follow the author of this story on Twitter and Facebook: