ISLAMABAD (AP) — Pakistani fashion model Qandeel Baloch, who recently stirred controversy by posting pictures of herself with a Muslim cleric on social media, was strangled to death by her brother, police said Saturday.
Her parents told police one of her six brothers strangled her to death as she slept in the family's home in Multan, police spokeswoman Nabila Ghazanfar told The Associated Press. She said police are searching for the suspect.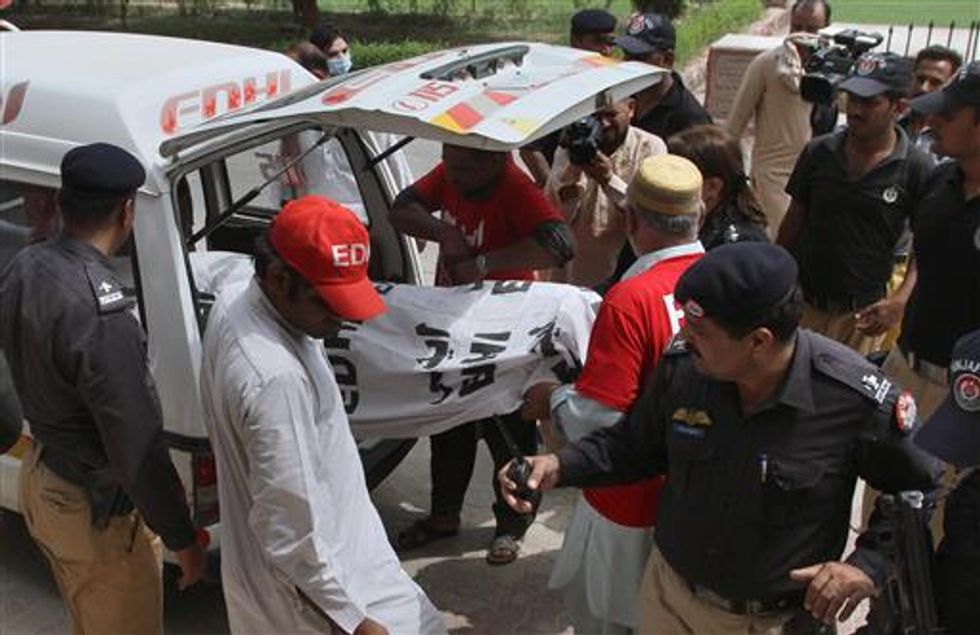 Pakistani police officers stand beside volunteers unloading the dead body of fashion model Qandeel Baloch upon arrival at a local hospital in Multan, Pakistan, July 16, 2016. (AP Photo/Asim Tanveer)

Baloch, whose real name was Fauzia Azeem, was little known until recently, when she offended many religious conservatives by posting pictures of herself with Mufti Qavi, a prominent Muslim cleric. She said the two of them enjoyed soft drinks and cigarettes together during the daylight hours in the holy month of Ramadan, when practicing Muslims fast from dawn to dusk.
Mufti Qavi faces more trouble for Qandeel Baloch selfieshttps://t.co/hHPcpLacRs@QandeelQuebee #MuftiQavi #Pakistan pic.twitter.com/OdVJ0kg5ME

— Pakistan Jobs/News (@AllJobsPakistan) June 26, 2016
The pictures and allegations caused a scandal in predominantly Muslim Pakistan, and the government removed Qavi from the official moon-sighting committee that determines when Ramadan starts and ends in accordance with the Islamic lunar calendar.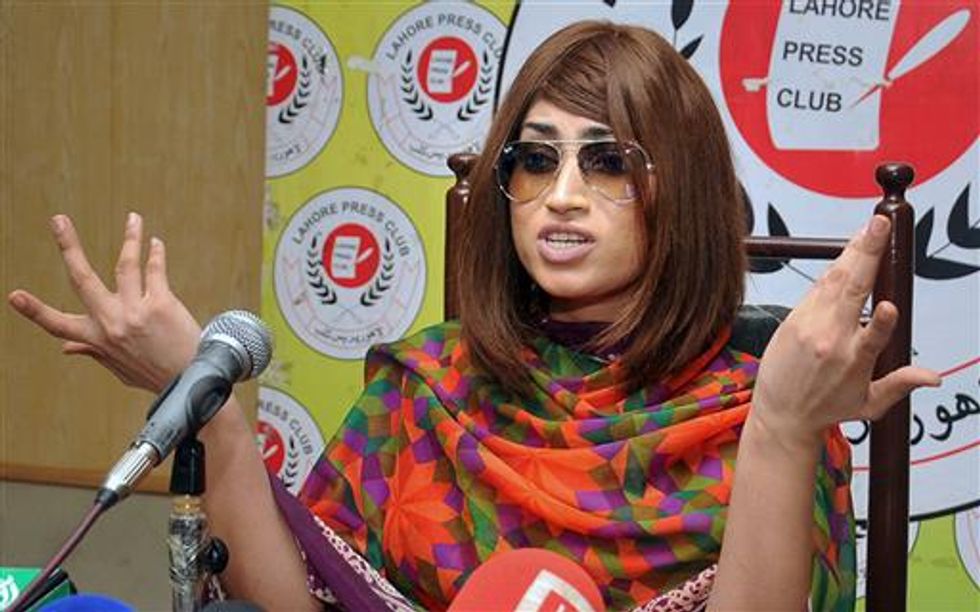 In this picture taken on June 28, 2016, Qandeel Baloch speaks during a press conference in Lahore, Pakistan. (AP Photo/M. Jameel)

Baloch had said Qavi told her he wanted to see her face before the committee met to determine the Eid al-Fitr holiday marking the end of Ramadan, which was observed earlier this month.
Qavi denied the allegations, saying he only met with her to discuss the teachings of Islam.
Earlier this month, Baloch sought protection from government, saying she was receiving anonymous death threats.
Hundreds of Pakistani woman are murdered by family members each year in so-called honor killings, which are seen as punishment for violating religious customs.