CLEVELAND (TheBlaze/AP) — Police took about a dozen people into custody Wednesday as scuffles broke out during a flag-burning protest in the streets outside the Republican National Convention.
As the most turbulent protest since the four-day convention began on Monday got underway, chaos briefly prevented delegates and members of the media from getting into the Quicken Loans Arena for the evening's proceedings.
At one point in the protest, which took place just outside an entrance to the arena and near a row of popular restaurants where cable news networks had set up for the week, a flag-burning demonstration began, which, according to the Cleveland Police Department, culminated with a man setting a flag on fire, then setting himself on fire before firefighters extinguished the flames.
Protestor lit flag on fire, then lit himself on fire, catching others on fire. Flames extinguished by firefighters. No serious injuries.

— Cleveland Police (@Cleveland Police)1469056774.0
"You're on fire! You're on fire, stupid!" a Cleveland officer shouted as he wielded a can of extinguishing spray, according to the Los Angeles Times.
Carl Dix, a representative of Revolutionary Communist Party, said the group organized the burning of the American flag as a "political statement about the crimes of the American empire. There's nothing great about America."
Some in the crowd jeered the officers, yelling, "Blue lives murder!"
About 10 more minutes passed before the crowd was under control.
One man who was in handcuffs stood in the street with his shirt pulled above his shoulders. A woman in a torn shirt also was led away in handcuffs.
Police Chief Calvin Williams was among a dozen officers trying to restore order by pushing people back.
Lt. Michael Butler said 10 to 16 people were taken into custody and would be charged.
Two officers were assaulted and suffered minor injuries, police said. One officer was seen bleeding from his elbow.
While the melee created the most intense moments outside the convention so far, the protests have produced far fewer arrests and less trouble than law enforcement had feared. Five people were arrested during the first two days.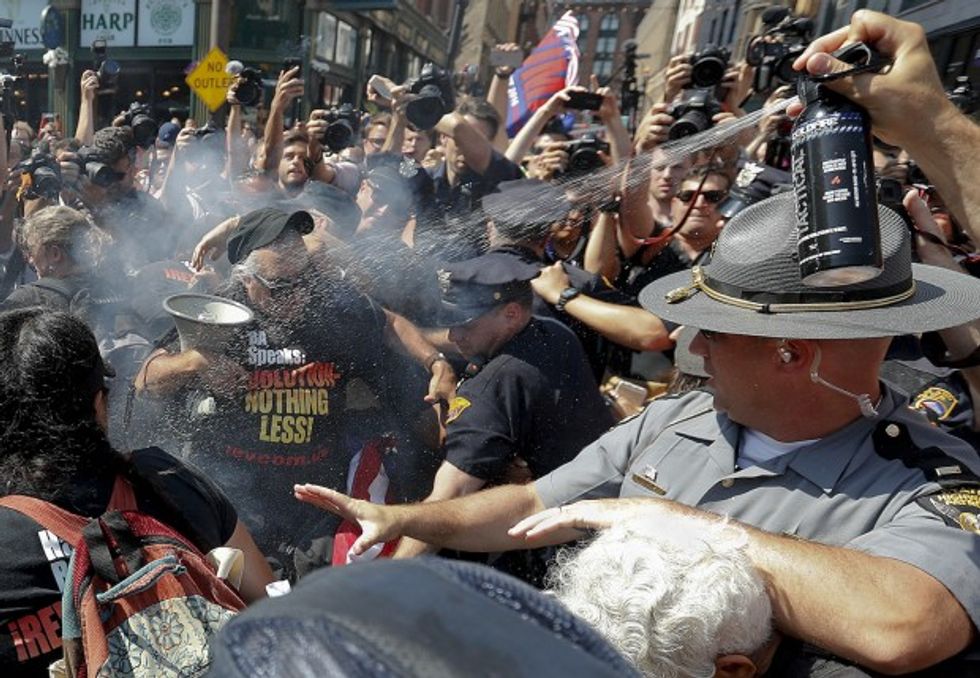 A law enforcement officer tries extinguish a burning American flag, Wednesday, July 20, 2016, in Cleveland, during the third day of the Republican convention. (AP Photo/John Minchillo)
Homeland Security Secretary Jeh Johnson said last week that he was worried demonstrations could get out of hand. He said local authorities were prepared to deal with hundreds of arrests each day.
Earlier in the day Wednesday, blocks away from the arena, a right-wing religious group lifted a banner reading "Jesus is angry with you sinners," while kissing lesbians mocked their message, helping turn Cleveland's Public Square into part-carnival, part-debate floor.
The expansive square was a free-flowing mix of ideas and beliefs along with colorful characters pounding on bongos and wailing on a sousaphone.
The day's demonstrations started when a few dozen people holding banners printed with a red-brick design formed a human wall to mock Donald Trump's plan to seal off the Mexican border.
"We want to wall off the hate of Trump," said Tim Chavez, of Columbus.
A half-dozen Trump supporters defended the GOP nominee from attacks by immigration activists.
Police officers used bicycles and their bodies to separate those with opposing views.
–