Republican presidential nominee Donald Trump addressed the Republican National Convention via video message after formally securing the party's nomination Tuesday evening.
Trump told delegates he is "proud" to be their nominee.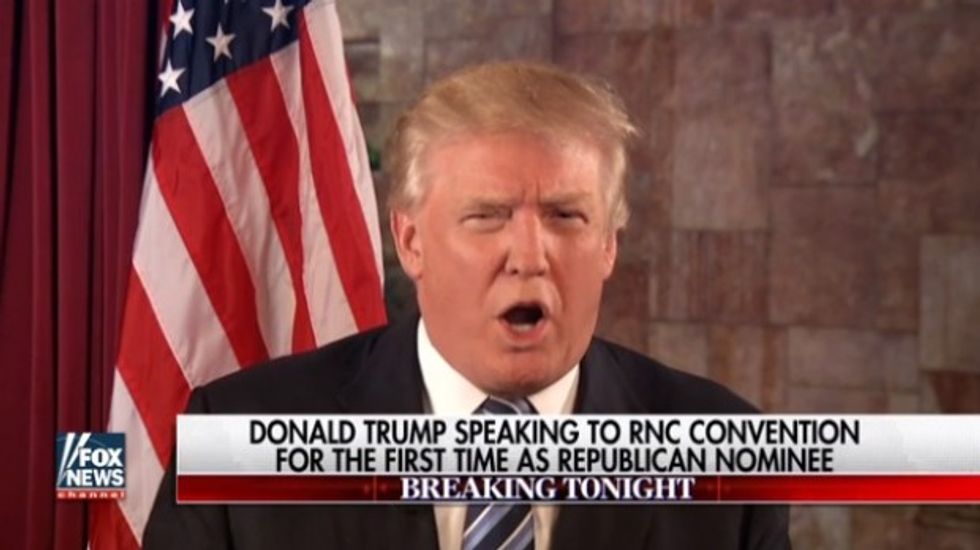 Image source: Fox News
"Today has been a very, very special day, watching my children put me over the top earlier, the party seal — I mean, what we did, getting the party's nomination, I'll never forget it," Trump said. "It was something I'll never, ever forget."
Trump said that the primary stage of the election "has come to a close" and that it is an "honor" to run with Indiana Gov. Mike Pence, whom he called a "great man."
"I'll be with him in Cleveland tomorrow night," Trump said. "We'll be together again on Thursday night, and by the way, we are going to win the state of Ohio and also, of course, we're going to win the presidency and bring real change and leadership back to Washington."
"Most importantly, we are going to make America great again," Trump added.
Watch:
—
Follow the author of this story on Twitter and Facebook: