Before the balloons fell and the celebration began, Donald Trump painted a dark picture of the state of America as he formally accepted the nomination to be the Republican presidential nominee.
Trump decried recent police shootings, deaths committed by undocumented immigrants, terrorist attacks and the rise of the Islamic State in his speech at the GOP convention Thursday night – a speech that was fairly reminiscent of the stump speeches he gave while on the campaign trail.
"The irresponsible rhetoric of our president, who has used the pulpit of the presidency to divide us by race and color, has made America a more dangerous environment for everyone," Trump said from Cleveland's Quicken Loans Arena.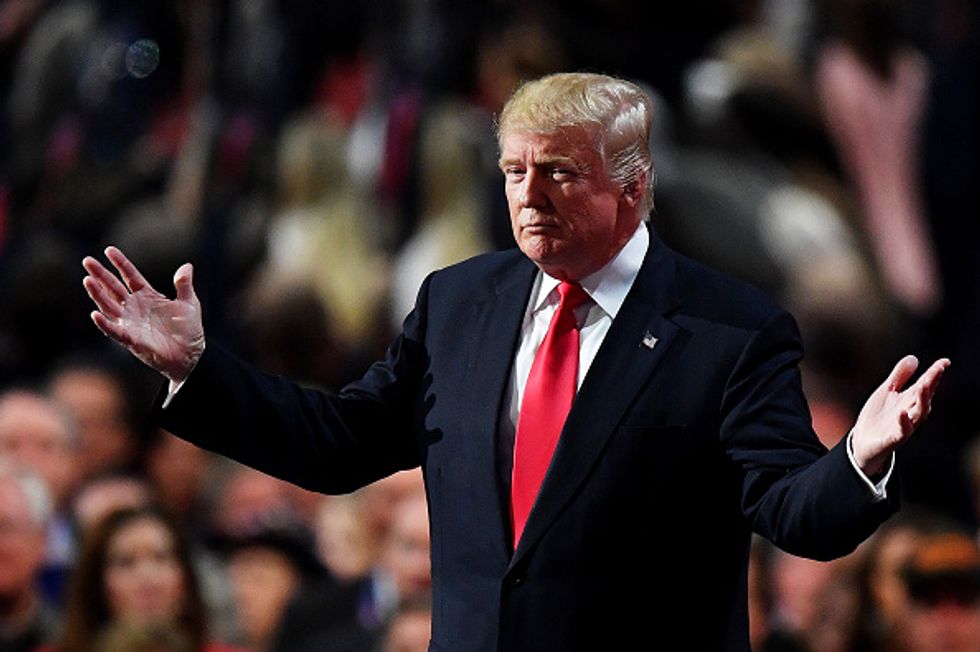 Republican presidential candidate Donald Trump walks on stage after his daughter, Ivanka Trump, introduced him during the evening session on the fourth day of the Republican National Convention. (Getty Images/Jeff J Mitchell)
Trump officially and "humbly" accepted the Republican presidential nomination Thursday night as he promised once again to be a "law and order" commander-in-chief and provide "a voice" for struggling families. He also promised that the U.S. "would be first once again."
"The most basic duty of government is to defend the lives of its own citizens," Trump also said. "Any government that fails to do so is a government unworthy to lead. It's finally time for a straightforward assessment of the state of our nation."
"My sole and exclusive mission is to go to work for our country – to go to work for you," he said. "It's time to deliver a victory for the American people. We don't win anymore, but we're going to start winning again."
Only a few hours after tech billionaire Peter Thiel addressed the convention and iterated his pride of being gay and a Republican, Trump decried last month's Orlando nightclub shooting and promised to protect LGBT people in the country which invoked cheers from the crowd.
"This time, the terrorists targeted our LGBT community," Trump said to applause. "As your President, I will do everything in my power to protect our LGBT citizens from the violence and oppression of a hateful foreign ideology."
"As a Republican, it makes me feel really good to hear you cheering for what I just said," he added.  
Those gathered in the arena actively participated in Trump's address, especially to boo and chant "build that wall" when Trump claimed undocumented immigrants "are being released by the tens of thousands into our communities with no regard for the impact on public safety or resources." Notably though, when audience members began to chant "lock her up" in reference to presumptive Democratic nominee Hillary Clinton, Trump didn't join in; instead, he simply waved them down.
In what was essentially a highlight real of his past speeches, Trump also talked economics, blaming the Obama administration for, what Trump said, growing the national debt to $19 trillion.
"Yet, what do we have to show for it? Our roads and bridges are falling apart, our airports are in Third World condition and 43 million Americans are on food stamps," he said.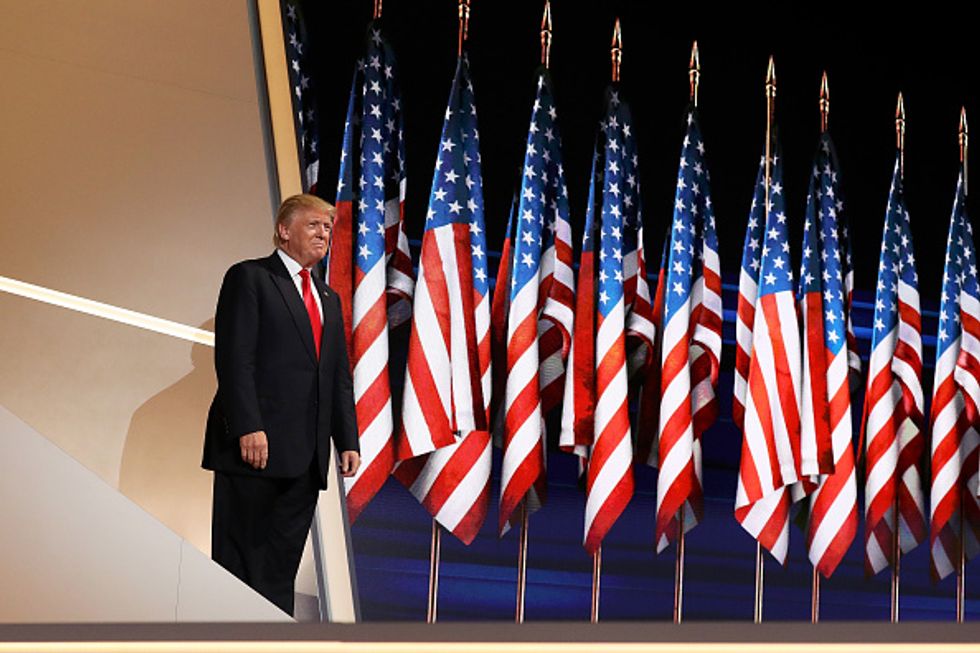 Donald Trump officially accepted the Republican presidential nomination Thursday night. (Getty Images/Joe Raedle)
While Trump harped on terrorism, police shootings and immigration issues, Clinton herself certainly wasn't safe from Trump's criticisms.
"After four years of Hillary Clinton, what do we have? ISIS has spread across the region and the world," Trump said. "Libya is in ruins, and our ambassador and his staff were left helpless to die at the hands of savage killers."
Trump added, "This is the legacy of Hillary Clinton: death, destruction and weakness."
"But Hillary Clinton's legacy does not have to be America's legacy," Trump continued. "The problems we face now — poverty and violence at home, war and destruction abroad — will last only as long as we continue relying on the same politicians who created them. A change in leadership is required to change these outcomes."
"Hillary Clinton's message is that things will never change," he said. "My message is that things have to change — and they have to change right now. Every day I wake up determined to deliver for the people I have met all across this nation that have been neglected, ignored, and abandoned."
Trump's daughter, Ivanka Trump, introduced her father Thursday night, proclaiming that he has been "the people's champion" for the past year.
"When my father said he will make America great again, he will deliver," she said.
But Ivanka Trump garnered attention Thursday night as she listed off a bevy of seemingly more Democratic talking points — such as equal pay for women and affordable childcare — in her own speech.
—
Follow Kaitlyn Schallhorn (@K_Schallhorn) on Twitter