The lack of discussion about the Islamic State at the Democratic National Convention Monday night poses a "genuine danger" to the safety of the United States, according to Newt Gingrich.
The former House speaker, who spoke in support of Donald Trump last week at the Republican National Convention, addressed the issue — which was acknowledged by many of his fellow Republicans — during a Facebook Live video published Tuesday afternoon.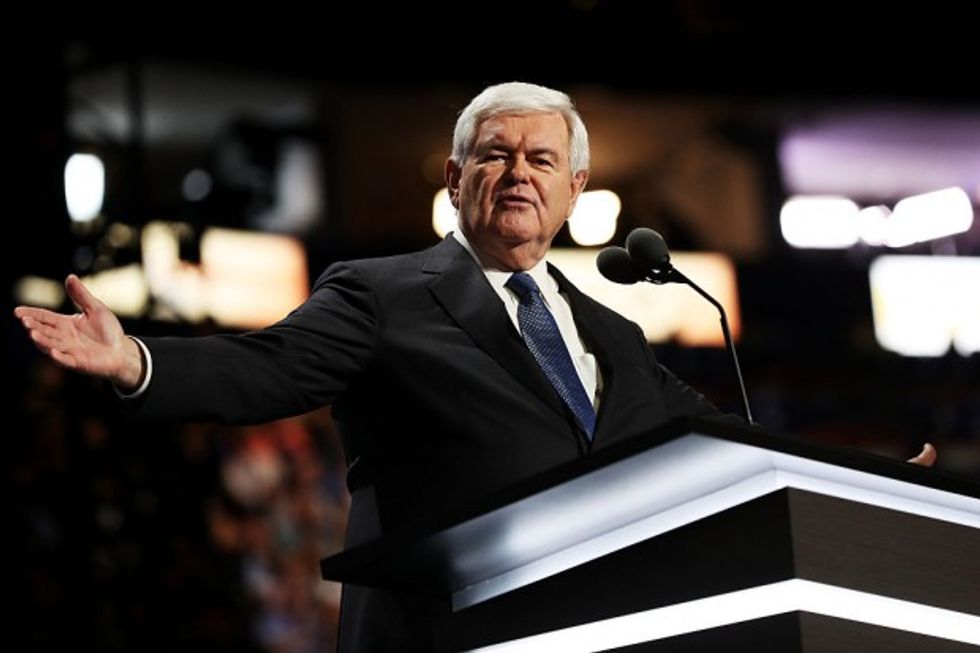 Former Speaker of the House Newt Gingrich delivers a speech on the third day of the Republican National Convention on July 20, 2016 at the Quicken Loans Arena in Cleveland, Ohio.  (Photo by John Moore/Getty Images)
After the initial assertion that mentions of the Islamic State were absent from the convention, the fact-checking website PolitiFact researched the issue. According to its report, there were no references to "ISIS," "Islamic," "terror," "terrorist" or "terrorism" in any speech transcripts.
According to Trump, who last week accepted the Republican Party's nomination for president, the reason the topic was avoided Monday is because presumptive Democratic presidential nominee Hillary Clinton's "foreign interventions unleashed" the Islamic State.
Dems don't want to talk ISIS b/c Hillary's foreign interventions unleashed ISIS & her refugee plans make it easier for them to come here.

— Donald J. Trump (@Donald J. Trump)1469562488.0
Asked about the issue on Facebook, Gingrich backed up his claim that the terror group poses a great threat by referencing the recent attacks in Germany and France.
"The morning after, nobody had mentioned ISIS, and two ISIS terrorists behead an 84-year-old priest in Normandy — think that's worth paying attention to," he said, using a popular acronym for the Islamic State. "It's worth reminding people that the world is dangerous."
Gingrich also had a few strong words for the media, who he said "made a great fuss" about Trump's acceptance speech being "too negative" and "dark."
"Well, as I just pointed out in reading to you the events of the last week in Germany and France, there's a lot of bad stuff out there," the Republican, who was on Trump's vice presidential shortlist, said. "There are a lot of evil people out there, and I use the word evil deliberately. I think somebody who deliberately puts nails in their backpack so the bomb will kill the maximum number of people is engaged in an evil act."
"I think somebody who uses a machete to kill a pregnant woman is engaged in an evil act," he continued. "I think somebody who beheads an 84-year-old priest is engaged in an evil act. And I think both political parties ought to have a dialogue about this."
Gingrich told those watching his Facebook Live post that it is "very dangerous" that the Democrats are "unwilling to talk about the truth" and "unwilling to deal with the real challenges" of the Islamic State.
"I think it does become a danger, not just a political danger, but a genuine danger to our country, weakening our ability to deal with these problems," he added.
—
Follow the author of this story on Twitter: