Hillary Clinton, the Democratic nominee for president, has not held one press conference this year. In fact, it's been more than 230 days since she held a press conference, and it's unclear if that will change.
When pressed on the fact that the last time Clinton took questions from a pool of reporters was Dec. 4, 2015, campaign pollster Joel Benenson said, "We'll have a press conference when we want to have a press conference." He told ABC News Clinton has "answered hundreds if not thousands of questions from reporters in one-on-one interviews."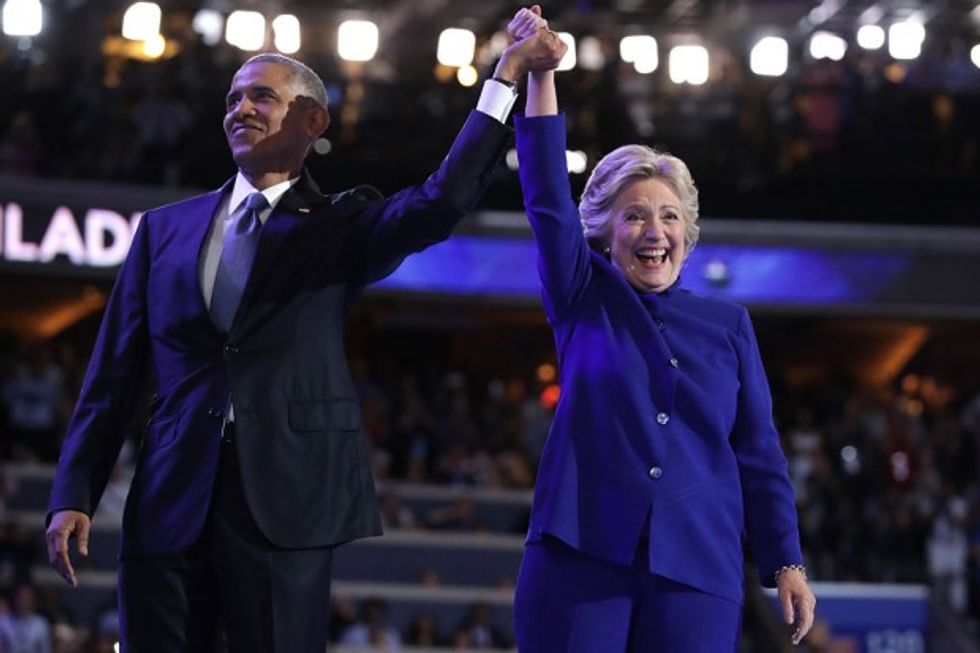 President Barack Obama and Democratic presidential nominee Hillary Clinton acknowledge the crowd on the third day of the Democratic National Convention at the Wells Fargo Center, July 27, 2016 in Philadelphia, Pennsylvania. Democratic presidential candidate Hillary Clinton received the number of votes needed to secure the party's nomination. An estimated 50,000 people are expected in Philadelphia, including hundreds of protesters and members of the media. The four-day Democratic National Convention kicked off July 25. (Photo by Chip Somodevilla/Getty Images)
"The American people hear from her everyday," Benenson argued. "They get to ask her questions everyday, and she answers questions from journalists. She's been doing interviews for months on some of the toughest issues that have come up."
And on Wednesday, Clinton campaign manager Robby Mook "burst out laughing," according to a report from The Hill, when he was asked during a Wall Street Journal luncheon if the candidate would hold a press conference between the Democratic National Convention and Election Day.
"We'll see," he simply said.
Mook again deflected when he was asked if this media blackout would continue into a potential Clinton presidency, telling reporters at the gathering he "will not speculate about anything after the election because I'll be on vacation."
"I'm saying that I can't even tell you what we're doing 10 days from now – we make these decisions on a rolling basis," he added, noting, like Benenson, the number of "one-on-one interviews" in which the former secretary of state has participated.
Mook said the campaign will "continue to evaluate these questions on an ongoing basis."
Questions about Clinton's refusal to hold press conferences — which has been frequently criticized by the Democrat's rivals in the GOP — cropped up when Donald Trump, the Republican nominee for president, raised the issue Wednesday during a press conference of his own.
"It's been 235 days since Crooked Hillary Clinton has had a press conference and you as reporters who give her all these glowing reports should ask yourselves why," he charged. "I'll tell you why: Despite the nice platitudes, she's been a mess."
Clinton will formally accept the Democratic Party's nomination for president during a speech Thursday night at her party's convention in Philadelphia.
Watch Benenson's comments below:
Clinton campaign pollster Benenson to @ABC: "We'll have a press conference when we want to have a press conference" https://t.co/wxgn057ehx

— ABC News Politics (@ABCPolitics) July 28, 2016
—
Follow the author of this story on Twitter: