He worked in President Ronald Reagan's White House and even wants to see a statue of The Gipper erected in the California State Capitol, but for the first time in his lifetime, he's voting for a Democrat for president.
Not long before Democratic presidential nominee Hillary Clinton is set to formally accept her party's nomination for president, Iowa native Doug Elmets endorsed the former secretary of state from the stage of the Democratic National Convention in Philadelphia Thursday night.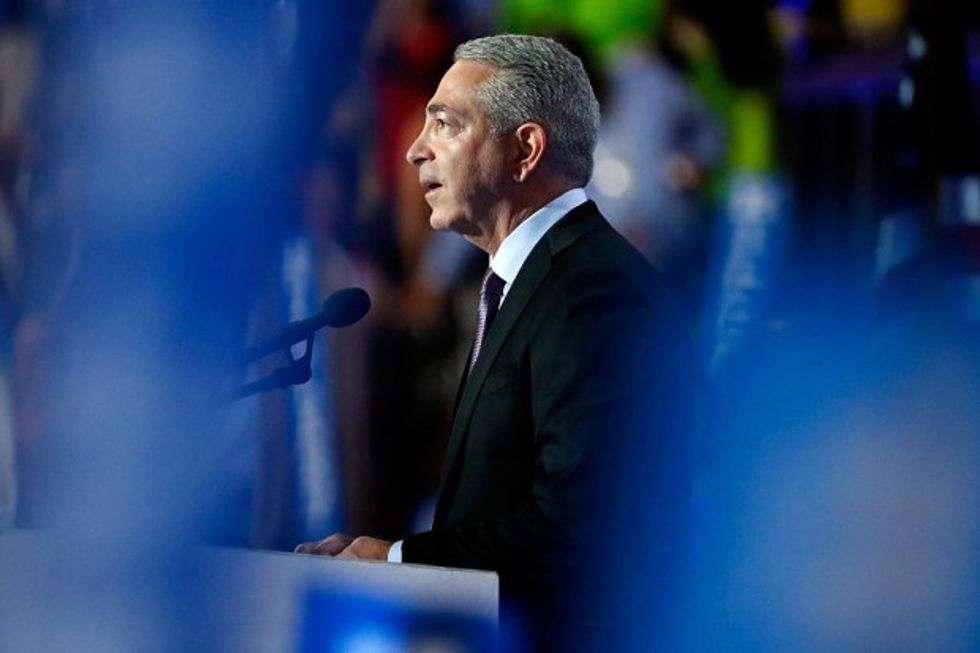 Former Reagan Administration official Doug Elmets delivers remarks on the fourth day of the Democratic National Convention at the Wells Fargo Center, July 28, 2016 in Philadelphia, Pennsylvania. Democratic presidential candidate Hillary Clinton received the number of votes needed to secure the party's nomination. (Photo by Aaron P. Bernstein/Getty Images)
While Elmets, who worked for Reagan as a speechwriter and a spokesman, described the fact that he was addressing the Democratic delegation as "a shock," he made clear he is determined to keep Donald Trump, the Republican nominee for president, out of the White House he worked in so many years ago.
"Forty years ago, I cast my first vote for president, voting Republican that day like I would do time and again," he said. "I haven't just voted Republican — I worked in President Reagan's White House. ... I knew Ronald Reagan. I worked for Ronald Reagan. Donald Trump, you are no Ronald Reagan."
Elmets told the energetic crowd gathered in the Wells Fargo Center that he "shudder[s] to think where [Trump] might lead our great nation."
"Fortunately," he added, "I don't believe he'll get that chance."
Elmets admitted that he has many policy disagreements with Clinton, but described her qualifications for the presidency as "indisputable." He called out Trump for language that he said is "dividing" the United States, describing the 2016 GOP platform as "the most alarming I've ever seen." He said it is "laced with anti-immigrant, anti-gay, anti-women positions that do not represent the views of most Americans."
"That is why this year, I will vote for a Democrat for the first time," the former Reagan staffer concluded.
Elmets' comments come as division plagues both the Republican and the Democratic Party. While many — most notably supporters of Bernie Sanders — are unhappy with Clinton, many Republicans are equally as unsatisfied with Trump.
See a portion of his remarks below:
Doug Elmets: "This year, I will vote for a Democrat for the first time" https://t.co/2vDNsIVZEv #DemsInPhilly https://t.co/QqeQg74MUx

— CNN (@CNN) July 29, 2016
—
Follow the author of this story on Twitter: