The U.S. Navy is expected to name one of its ships after gay rights icon and San Francisco politician Harvey Milk, who became the first openly gay man to hold public office in California, according to a new report.
A July 14 notification, obtained by the U.S. Naval Institute's news service, indicated the Navy will name a Military Sealift Command fleet oiler after the activist. The vessel, which will be constructed by General Dynamics NASSCO in San Diego, California, will be officially titled USNS Harvey Milk.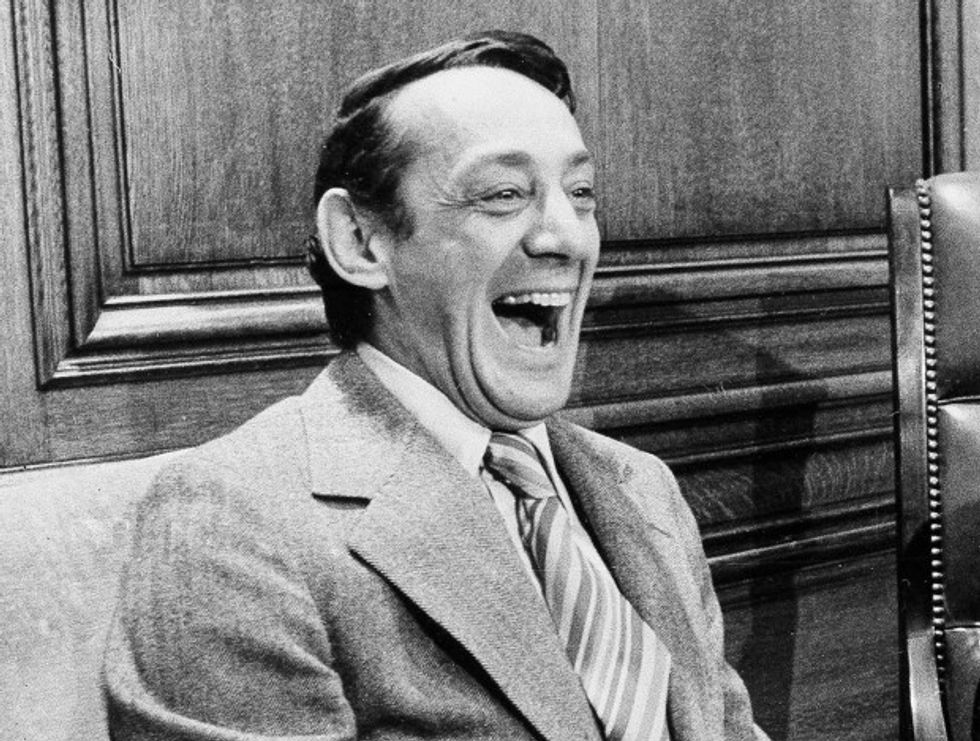 This file photo from April 1977 shows San Francisco Supervisor Harvey Milk in the mayor's office during the signing of the city's gay rights bill in San Francisco. A proposal to name a street after pioneering gay leader Harvey Milk is the latest display of Salt Lake City standing out as a blue dot in a deep-red state where the prevailing Mormon faith still has a fraught relationship with the LGBT community. (AP Photo/File)
According to the USNI, Ray Mambus, the secretary of the Navy who issued the notification, will not release any more details about the ship until the formal naming announcement.
Milk came from a Navy family, according to the report, and joined in 1951, when he served as a diving officer doing the Korean War. He later received an honorable discharge as a lieutenant junior grade. After his time in the military, Milk was elected to the San Francisco board of supervisors in 1977. One year later, Milk — donning his Navy diver's belt buckle — was killed by a fellow city official.
Ever since the 2011 repeal of the "Don't ask, don't tell" legislation then-President Bill Clinton signed into law, California lawmakers have been pushing for a ship to be named after the assassinated politician.
"This action by the U.S. Secretary of the Navy will further send a green light to all the brave men and women who serve our nation that honesty, acceptance and authenticity are held up among the highest ideals of our military," Milk's nephew, Stuart Milk, told San Diego LGBT Weekly in 2012.
Milk will now join a fleet, known as the John Lewis-class, named after civil rights leader Rep. John Lewis (D-Ga.), of other ships named after well-known civil rights icons. Other names in the class include Attorney General Robert F. Kennedy, abolitionist and women's rights activist Sojourner Truth and former Supreme Court Chief Justice Earl Warren, according to the USNI.
The USNS Harvey Milk will be the second oiler commissioned out of San Diego. The ships serve as support vessels to other Navy ships by replenishing them with fuel, ammunition, mail, food and other necessities.
–
Follow the author of this story on Twitter: