Bill O'Reilly invited Republican presidential nominee Donald Trump on the "O'Reilly Factor" Tuesday to address the Capt. Khan controversy that has earned Trump the rebuke of conservatives and liberals alike.
Trump has been under fire since last week, when he responded to criticisms Khizr Khan, father of the late decorated Muslim Army Capt. Humayun Khan, leveled during a speech at the Democratic National Convention. Khan excoriated Trump for entertaining a Muslim immigration ban and accused him of making no sacrifices for his country.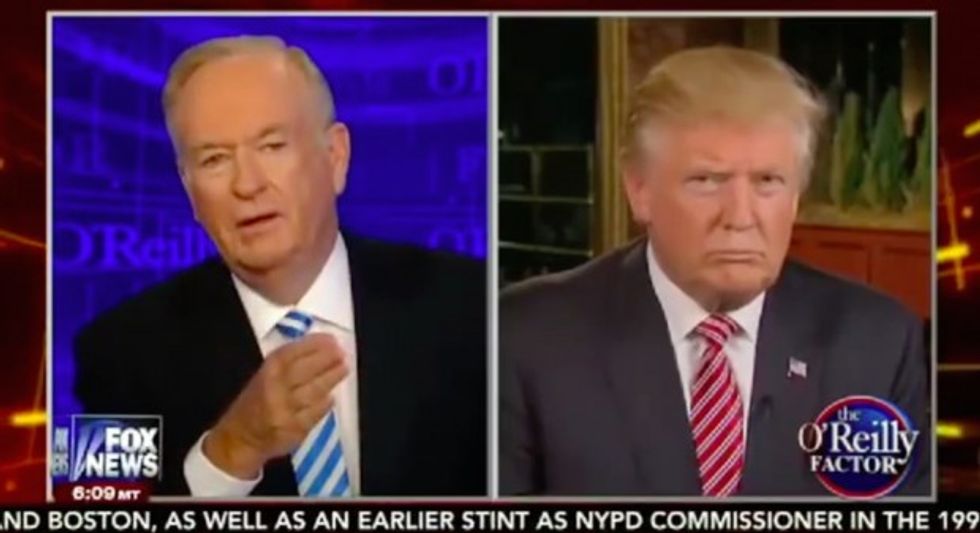 Image source: YouTube
O'Reilly questioned Trump Tuesday evening, questioning his decision to respond to Khan's speech by insulting his wife and their faith. The Fox News host claimed that by doing so, the candidate gave the liberal media exactly what they wanted.
Trump defended his actions, asserting that he was "viciously attacked" by Khan and felt the need to set the "totally dishonest" media straight.
Mr. Khan, who does not know me, viciously attacked me from the stage of the DNC and is now all over T.V. doing the same - Nice!

— Donald J. Trump (@realDonaldTrump) August 1, 2016
O'Reilly chided his guest, noting that "it wasn't wise to bring the mother in" by suggesting she didn't speak at the DNC because she's Muslim. Mrs. Khan later said she didn't speak because she was overcome with grief.
Trump shrugged it off, saying, "I read a lot and I watch a lot" and "many people discussed this."
O'Reilly then advised him to avoid "punching down" and targeting the grieving families of national heroes.
He called it "common sense" that if "there's some little Muslim woman who loses her son," he shouldn't insult her. No exceptions.
Watch: