The conventions have ended, both major parties have chosen candidates, and the nation is less than 14 weeks away from Election Day.
Have you ever wondered what would happen if either major party suddenly had a vacancy atop the ticket? What if Donald Trump or Hillary Clinton had to withdraw from the race?
Never in American history has a major party's nominee dropped out of the race or died before the election was held. However, twice vice presidential candidates have had to be replaced between the conventions and the election. In 1912, Vice President James Sherman, a Republican hoping to be re-elected, died before the election. Sixty years later, in 1972, Democrat Tom Eagleton — George McGovern's running mate — withdrew himself from the ticket.
Both vice presidential candidates were replaced in accordance with the rules of their respective parties.
This year, the question has been a discussion topic regarding the two major party presidential candidates.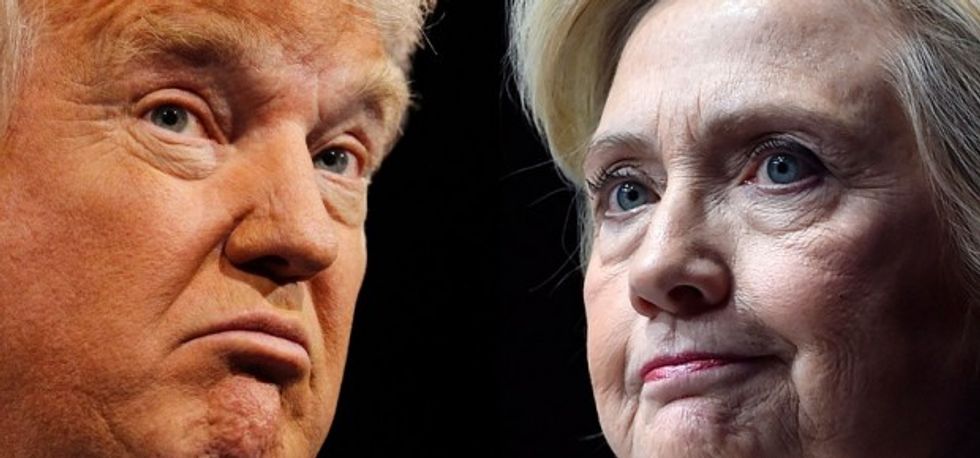 AP Photo
First, there was speculation swirling around Democratic nominee Hillary Clinton and a potential indictment related to the scandal surrounding her use of a private email server during her tenure as secretary of state. It turned out that, though an indictment would have been politically troubling for the former first lady, it would not have officially disqualified her from running for the White House.
More recently, Republican nominee Donald Trump's dustup with a Gold Star family and multiple controversial statements coupled with a very successful Democratic National Convention last week have led to unexpectedly poor polling numbers for the nominee and speculation that some officials in the GOP would like to find a way to see Trump replaced as the party's standard-bearer.
Nate Silver's latest polling data shows the Clinton campaign with a considerable lead over Trump as of the first week of August.
Clinton now 73% to win in our polls-plus model. 78% in polls-only. https://t.co/zo8rbYw56E pic.twitter.com/ULpoCf0ygy

— Nate Silver (@NateSilver538) August 4, 2016
Additionally, a high-profile friend of Trump has repeatedly stated that he does not believe the Manhattan billionaire actually wants to become president, speculating that Trump would prefer to start his own branded media outlet instead.
This week has also seen at least one elected Republican and other well-known GOP insiders going public with their intention to vote for Clinton.
All that, combined with Trump's repeated refusals to endorse multiple well-known Republicans up for re-election — notably Sens. John McCain (Ariz.) and Kelly Ayotte (N.H.) and House Speaker Paul Ryan (Wis.) — following his campaign's calls for party unity, has led some Republicans to call for Trump to withdraw from the race.
What would happen if Trump did take himself out of the run for the White House? The answer can be found in the Republican National Committee's rules.
The GOP has a plan in place, just in case a vacancy is created. It's called "Rule No. 9":
RULE NO. 9

Filling Vacancies in Nominations

(a) The Republican National Committee is hereby authorized and empowered to fill any and all vacancies which may occur by reason of death, declination, or otherwise of the Republican candidate for President of the United States or the Republican candidate for Vice President of the United States, as nominated by the national convention, or the Republican National Committee may reconvene the national convention for the purpose of filling any such vacancies.

(b) In voting under this rule, the Republican National Committee members representing any state 8 of 44 shall be entitled to cast the same number of votes as said state was entitled to cast at the national convention.

(c) In the event that the members of the Republican National Committee from any state shall not be in agreement in the casting of votes hereunder, the votes of such state shall be divided equally, including fractional votes, among the members of the Republican National Committee present or voting by proxy.

(d) No candidate shall be chosen to fill any such vacancy except upon receiving a majority of the votes entitled to be cast in the election.
For further clarification, TheBlaze asked David Redlawsk, chair of University of Delaware's political science department, "What would happen if Trump (or any Republican presidential nominee) needed to be replaced by the party?"
TheBlaze has not received a response from several Democratic Party representatives and elected officials we asked about the party's rules should Clinton drop out.
—
Follow the author of this story on Twitter and Facebook: