A national security grassroots organization released a new video over the weekend that "shows another side" of former Secretary of State Hillary Clinton's introduction video played at the Democratic National Convention.
With a Morgan Freeman impersonator narrating the nearly four-minutes long video, the spoof from Secure America Now goes chronologically through Clinton's life. But while the DNC video showcased the presidential nominee's political and career accomplishments, this video harps on scandals.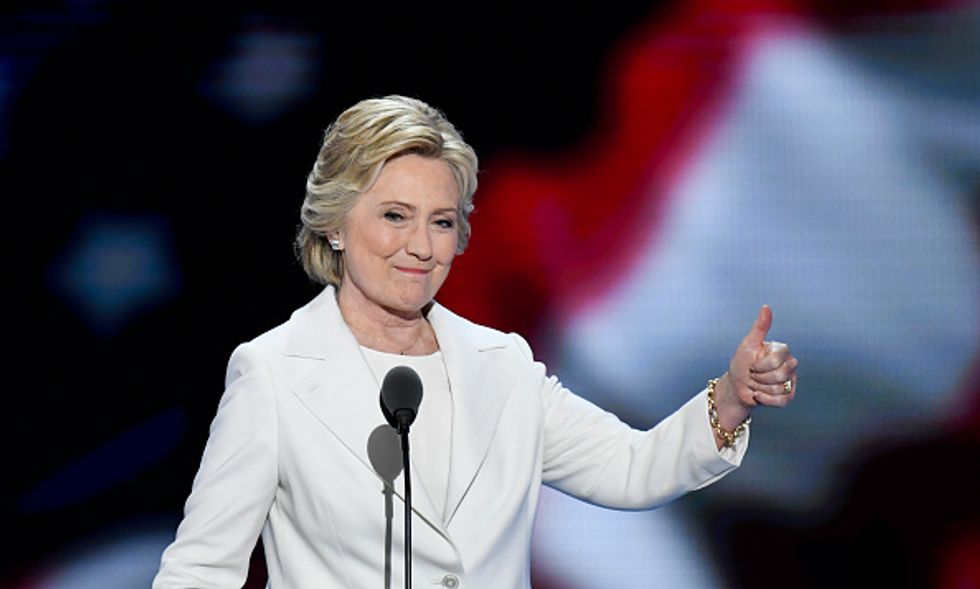 Hillary Clinton takes the stage to accept the nomination to be president at the Democratic National Convention in Philadelphia. (Getty Images/Bill Clark)
Particularly the spoof — called "The Video the DNC Wouldn't Let Play at the Convention" — hits Clinton on her involvement with the Whitewater controversy and her contentious use of a private server during her tenure as secretary of state.
The video's voiceover says Clinton "let down her constituents multiple times" while she served as a New York senator before her eventual appointment to secretary of state by President Barack Obama.
"This is where her lack of leadership became deadly," the impersonator said.
"Secure America Now is going to use [the video spoof] from now until the election because it's the truth. It's her stories and her failures," said Josh Canter, director of accounts at Harris Media, the marketing agency of which Secure America Now is a client.
Aside from the video spoof, the nonpartisan national security digital organization created the first political Snapchat filter last year which opposed the Iran nuclear deal. Secure America Now is also targeting select senatorial campaigns this election cycle, particularly those who supported the controversial nuclear deal.
"Security as a whole is a focal point of this election," Canter said.
—
Follow Kaitlyn Schallhorn (@K_Schallhorn) on Twitter