Most Americans fear the United States is facing great social division, heading down the wrong path and being served by a government that negatively impacts them, according to a new poll from Monmouth University.
The survey, which polled 803 registered voters earlier this month, asked participants which of six options made them feel the most threatened. The two that received the most votes were the Islamic State and Donald Trump.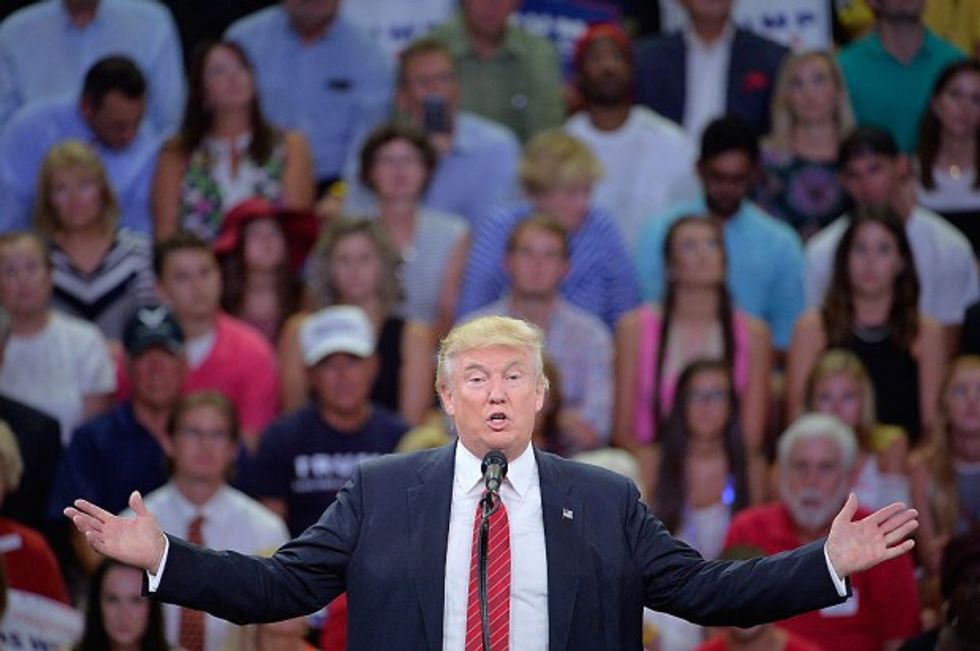 Republican presidential candidate Donald Trump addresses the audience during a campaign event at Trask Coliseum on August 9, 2016 in Wilmington, North Carolina. This was TrumpÕs first visit to Southeastern North Carolina since he entered the presidential race. (Photo by Sara D. Davis/Getty Images)
Of the 803 surveyed, 61 percent said they feel their way of life is personally threatened by the Islamic State, while 54 percent said Trump, the Republican nominee for president, threatens them. Around 43 percent said they feel equally threatened by Democratic presidential nominee Hillary Clinton and the policies of the Republican Party.
Only 39 percent said they feel threatened by the policies of the Democratic Party and a mere 28 percent said they feel personally threatened by illegal Mexican immigrants — a hot topic issue that helped catapult Trump to the top of the polls during the Republican presidential primary. The real estate developer has promised to build a wall along the southern U.S. border that will be paid for by the Mexican government.
However, when it comes to the November election, 13 percent of the American electorate have a great deal of trust and 47 percent have a fair amount of trust (60 percent total) in the American people to make the right choice when it comes to the presidency. That is lower, though, than previous years.
"We are seeing a mixed bag of results here," Patrick Murray, director of the Monmouth University Polling Institute, said of the study. "Voters claim they trust the American people to make political decisions, but it seems that may only apply if they actually agree with those decisions. And the conflict they see among their political leaders doesn't boost confidence."
Public trust has steadily declined over the years. According to Gallup, in 1976, 86 percent of the public trusted the American voters. In 2004, it dropped to 75 percent and in 2012, declined even further to 64 percent. Overall, Democrats, at 70 percent, are most likely to say they trust the voters. Fifty-seven percent of independents and 56 percent of Republicans voice confidence in the American electorate.
The Monmouth poll also determined roughly 50 percent of independent voters equally distrust Clinton and Trump. Breaking it down between parties, 18 percent of Republicans feel Trump could be a threat if he wins the presidency and 6 percent of Democrats believe Clinton could be a threat if she succeeds in the fall.
The most recent Monmouth general election poll shows Clinton with a 13-point lead over her Republican rival.
(H/T: Mediaite)
—
Follow the author of this story on Twitter: